New to Haiku: For Beginners
[The following beginner's introduction to haiku was written by Sarah Welch, a teen poet living in Washington state. Our thanks from The Haiku Foundation Education committee for her permission to reprint this essay here.]
What Is Haiku?
Haiku is a short poem from Japan. In English, they're usually in three lines, with no titles or rhyme. You don't have to count syllables in English. Instead, you can write a haiku by using your five senses, with a reference to the season, and in two parts. Here's a famous haiku from Japan, by the poet Issa:
snow melting . . .
the village is flooded
with children!
Five Senses
Your five senses are sight, smell, hearing, taste, and touch. In a haiku, you want to show readers what you were sensing at a moment when something happens to you. See if you can include one or two lines about at least one of your senses in your haiku.
snowy night —
a sip of cocoa
burns my tongue
Seasonal Reference
In Japanese haiku, a season word is called a kigo. It's a word that refers to the time of year, the way snow tells us it's winter or how flowers represent spring. Use just one seasonal reference in your haiku.
white-hot sun —
the cat's meow
from the shaded balcony
Two Parts
Japanese haiku are divided into two parts by a kireji, or cutting word. We don't have cutting words in English, but we can still give our haiku two parts. The two parts help you think about the connection between one part and the other, and this helps you participate in the poem.
breezy morning —
a Yorkie puppy
catching cherry petals
Write Your Own Haiku!
Now it's your turn! After you read some of the haiku on this website, can you write a haiku for each of your five senses? Don't forget to have two parts and a season word in each poem. Have fun!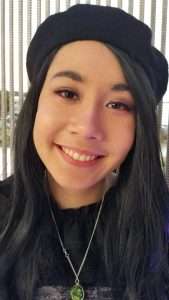 Sarah Welch lives with her parents and brother in Sammamish, Washington. She is part of the class of 2024 at International Community School, where she is active with drama, the authors' society, and the Green Team environmental club. She loves riding horses and volunteers to help younger kids learn horseback riding. In 2019 she was a "Haikyū or Haiku?" cosplayer and panelist at Sakura-Con in Seattle. She has won Sakura Awards in the Vancouver Cherry Blossom Festival Haiku Invitational and also placed three times in the Haiku Poets of Northern California rengay contest. Sarah was ten years old when she wrote "New to Haiku: For Beginners," which also appeared, in a slightly different form, as the introduction to Christine L. Villa's puppy haiku story, Will You Still Love Me (Purple Cotton Candy Arts, 2019).