Featured Item
A book of haiku sequences by British poet Martin Lucas.
Featured Collection
A collection of English and foreign language haiku journals from printed and online sources.
Recently Added Items
Kokako is published in New Zealand and is a magazine of haiku, tanka, haibun and related genres. It appears twice annually, in April and September.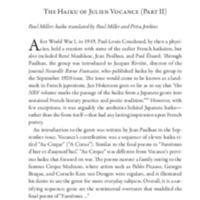 An Essay on the Haiku of Julien Vocance (Part II)
An Essay on the Haiku of Julien Vocance (Part I)