Some Thoughts on Line and Syllable Count in English-Language Haiku
One of the most confusing things when you are new to haiku is discovering that what you may have learned in school – haiku is a short poem from Japan written in 3 lines with 17 syllables – is not all there is to know about haiku. At best, this definition represents an incomplete understanding of the form.
Writing in three lines
with seventeen syllables
might not be haiku.
Haiku can be written in three lines with 17 syllables: 5 syllables on the first line, 7 on the second, and 5 on the third. But haiku are not defined by syllable count and they don't have to be written in this way.
"There is simply no hard and fast syllabic rule for an English-language haiku today. (Sorry!) — Scott Mason, The Wonder Code
In Japanese, haiku is written in 17 on, or sound units. On don't translate directly into English-language syllables. Some haiku scholars believe this misconception has led to English-language haiku that are too wordy. This is why you often see modern haiku with a syllable count of less than seventeen.
Haiku can be written with one, two, three, four, or more lines. Although three-line English-language haiku have historically been most common, one-line haiku, or monoku, are growing in popularity.
into the afterlife red leaves

     — Peggy Willis Lyles
You don't see as many two or four line haiku today as you do three-line haiku or monoku, but they are occasionally published.
binary star…

the cat's eyes

    —Julie Bloss Kelsey
Some poets have stretched the bounds of what people think haiku can be. The following poem by Marlene Mountain, published in 1976, challenges the idea of a three (or less) line count and explores concrete imagery in haiku. (You can read an analysis of this poem here).
on this cold
               spring 1
             2 night  3    4
              kittens
                 wet
                   5
— Marlene Mountain
Other poets, like
Cor van den Heuvel
, have explored how few words or lines one must include in haiku. One of his most famous haiku, first published in 1963, consists of a single word on a blank page. (I won't spoil this one if you haven't seen it; you can view his poem
here
.)
Exploration of the size, shape, and line count in haiku continues today. This experimental poem by Kat Lehmann, which first appeared in Human/Kind Journal in September 2020, thoroughly challenges the 5/7/5 model of haiku. Lehmann writes, "Sudo-ku can be read both horizontally and vertically (like a sudoku puzzle) and has a theme."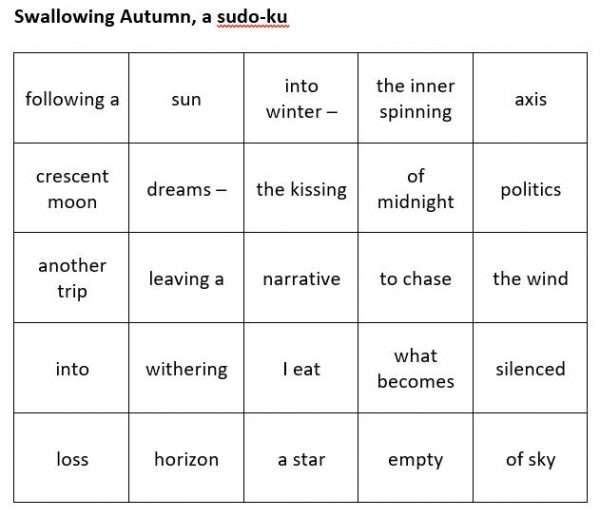 Future fresh takes on haiku will undoubtedly continue to explore and test the anticipated line and syllable count in English-language haiku. At the same time, there will be poets who continue to write haiku in the more traditional three lines with 17 syllables. Both approaches are valid. For such a tiny poem, haiku certainly captivates, invites discussion, and defies definition!
So, where does this leave you when first writing haiku? My best advice is this: read haiku widely and study the work of poets you like. Try to understand what it is in their poems that moves you. Read your own haiku aloud and follow what works best for conveying the juxtaposition of images and the experience that you want to share. Let your words flow naturally. Make sure that you aren't sacrificing readability to fit a syllable count. And, always, try to enjoy the writing process. If you like writing your poetry, your audience will likely enjoy reading it too.