New to Haiku: Advice for Beginners – Roberta Beary
New to Haiku is pleased to interview award-winning haiku poet Roberta Beary, haibun editor of Modern Haiku and The Haiku Foundation's Roving Ambassador. Thanks for sharing your haiku journey with us, Roberta!
In Advice for Beginners posts, we ask established haiku poets to share a bit about themselves so that you can meet them and learn more about their writing journeys. We, too, wanted to learn what advice they would give to beginning haiku poets. You can read posts from previous Advice for Beginners interviewees here.
Welcome to New to Haiku, Roberta! What are your favorite haiku that you have written? Can you share a story behind one of them?
piano practice
in the room above me
my father shouting

"Woodnotes," No. 31 (1997); "The Red Moon Anthology" (1997); The Unworn Necklace (Snapshot Press, 2007)
I wrote this poem anonymously at a plenary session of a Haiku Society of America Conference in Washington, DC in the late 1990s. A lively discussion followed about whether this was, in fact, a haiku.  Several attendees said it was not. Others remarked that the subject was not appropriate for haiku. It was my first conference, so I didn't realize that the presenter, Frogpond editor Ken Leibman, would end the discussion by requesting that the writer of the haiku stand. At the end of the conference, Michael Dylan Welch asked me to send the haiku to him for his journal, Woodnotes. And just like that, I was on my way.
A second favorite:
my son and i
counting fireflies
counting stars

First Prize, "Penumbra" (1999); "The Thin Curve: The Red Moon Anthology of English-Language Haiku" (1999); The Unworn Necklace (Snapshot Press, 2007)
 A third favorite:
empty streets —​
my inner child​
on roller skates​

British Haiku Society 2020 anthology
What haiku-related project are you currently working on that brings you joy? What do you like about it?
I'm working on a tiny haibun collection that features my fairy tale and nursery rhyme haibun. In writing these haibun, I relish the juxtaposition of childhood comforts and adult concerns.
At the same time, I am doing a longer haibun collection with a wide range of dark and light subject matter. And I've just finished my longterm lockdown project, a short story collection.
I'm very proud of my recent work on One Breath: The Reluctant Engagement Project, which pairs my haiku with artwork created by people with disabilities and their families in a workshop led by haiku poet and artist Mary White. You can read more about it on my webpage.
How did you come to learn about haiku?
Set adrift in Japan in 1990, haiku became my anchor. I studied the art of haiku at a cultural center in Minato-ku, Tokyo. At the same time I was working as an international attorney for a Japanese law firm where my colleagues strongly encouraged me to write haiku. I submitted several to newspapers that published haiku: Japan Times, Daily Yomiuri and the Mainichi. Eventually my haiku were selected by all three. And I was over the moon when one of my haiku was commended in a Basho contest sponsored by Haiku International (Japan):
picking strawberries
grandma's rolled up sleeves reveal
pale tattooed numbers

Commended, International Haiku Contest (1994) in Commemoration of the 300th Anniversary of Matsuo Basho Contest, Haiku International Special Issue, Haiku International Association (1996)
After five years in Tokyo, I returned to the States in 1996. I queried an online haiku chatroom about in-person groups in the Washington, DC area. Michael Dylan Welch responded, encouraging me to contact a new group, Towpath Haiku Poets of the Chesapeake Watershed. I've been an active member ever since.
Do you have a haiku mentor? What advice did they give you?
Early on I was helped by Towpath poets, among them Jim Kacian, Lee Giesecke, Kristin Deming, and Ellen Compton. Ellen and I became life long writing partners, and we started attending haiku conferences together. Meeting Alexis Rotella and Lenard D. Moore were huge events in my haiku journey. In 2000, at the Global Haiku Festival (Milliken University) I pushed myself to sign up for the open mic session. Afterwards, George Swede encouraged me to put together a haiku collection. It took me a long time. But five years later, The Unworn Necklace manuscript won the Snapshot Press Haiku Book Award. Two years later, the same collection won a Poetry Society of America finalist award, a first for a book of haiku, and a Haiku Society of America merit book award.
For those just starting out, what advice would you give?
This first bit of advice bears repeating: Before submitting, immerse yourself in a journal's past issues. Do the haiku, haibun, sequences speak to you? What about the journal's essays, book reviews, and editorial commentary? Consider the overall tone of the journal and its editor(s). Is it generous or mean-spirited? If the latter, stay away. Where your work is published says something about you.
The second bit of advice may surprise some readers. I recommend submitting to journals with proven staying power. There are many haiku journals, both print and online. But some last no more than a few issues. These are fine for seasoned haiku poets. For them, submission to newer journals helps support the editors. But for those new to haiku, opt for more established journals. It can be disheartening to newer poets to realize that the first journal to accept one's work is closing after only a year or less of publication.
How do you approach reading haiku?
When I throw the haiku I am reading at a mirror, does it dissolve? Or stare back and me and become part of who I am?
You have long been a champion of women's voices in English-language haiku. What do you see as the challenges (and possible solutions) to gender equity in the haiku community today?
The global haiku community often fails to recognize women poets. It would be easy, but false, simply to blame male poets. For example, an interesting exercise I practice is to look at re:Virals postings on The Haiku Foundation website. I often see that the commentary about the winning poem is by a woman, who then gets to choose the next haiku for commentary. That haiku will often be one written by a man. Is this the way to get more women poets recognized by the haiku community? It's up to all genders to make a change.
How can we do it? Three venues are worth exploring. The first is haiku journals. When submitting to haiku journals, poets should take the time to see how often women poets are selected for best of issue awards. Unconscious bias can come into play here on the part of the journal's selectors. Does the journal rarely honor haiku by women with its awards? Know where you are submitting your work.
The second venue is haiku contests. Does the journal often select only men to judge its contests? If the judge isn't named until after the contest, look back on prior years for the judges' names. There are plenty of contests from which to choose.
A third venue is haiku conferences. Are any panels mostly made up of white males? If so, why? Ask the contest organizers. I did exactly that at more than one haiku conference. And they made changes.
For those with haiku collections, do your blurbs reflect the diversity of the global haiku community? I rarely purchase a book whose blurbs are limited to white men, no matter how highly rated the author.
A final thought: Gender equity in the haiku community is possible if one is willing to challenge the status quo. If you see something, say something.
What are some of the fun ways that you have used or experienced haiku?
Here are a few:
Thanks to the editors, publishers, judges and sponsors of each.
I'm enjoying my tenure as Roving Ambassador for The Haiku Foundation, unfortunately curtailed for the past two years due to Covid. But soon to start up again! Countries visited so far: Samoa, Australia, Canada, Cambodia, Denmark, England, Finland, Germany, Ireland, Lithuania, Netherlands, New Zealand, Northern Ireland, Norway, Poland, Scotland, Singapore, Sweden, Thailand, Tonga, USA, and Wales.
Anything else you'd like to share?
I recently talked about haiku and haibun as the featured poet on Rattle Magazine's Rattlecast.
And speaking of Rattle, I had a blast hearing from Janis Ian about my Rattle Poets Respond® entry, a haibun titled When I Read About Janis Ian I am the Same Only Different, selected by editor Tim Green for the week of January 25, 2022. You can read/listen here.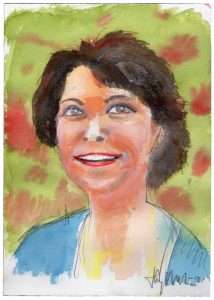 Roberta Beary, haibun editor of Modern Haiku, spreads the haiku word as contest judge, conference presenter, and anthology editor. Author of two award winning collections, The Unworn Necklace (Snapshot Press, 2007) and Deflection (Accents Publishing 2015), a third collection, Carousel, is forthcoming from Snapshot Press. Their collaborative work, One Breath: The Reluctant Engagement Project with Ireland's Clan Beo and haiga artist and poet Mary White, which pairs their haiku with artwork by people with disabilities and their families, was shortlisted for a 2021 Touchstone Distinguished Book Award. Beary identifies as gender fluid and since 2017 has volunteered as The Haiku Foundation's Roving Ambassador. They tweet their micros and photoku @shortpoemz.