New to Haiku: Advice for Beginners – Djurdja (Đurđa) Vukelić Rožić
This week,
New to Haiku
is pleased to interview Djurdja (Đurđa) Vukelić Rožić. Thanks for sharing your haiku journey with us, Djurdja.
In
Advice for Beginners
posts, we ask established haiku poets to share a bit about themselves so that you can meet them and learn more about their writing journeys. We, too, wanted to learn what advice they would give to beginning haiku poets.
Welcome to New to Haiku, Djurdja! How did you come to learn about haiku?
Being a passionate reader, I met haiku here and there in my youth, and I myself wrote poetry and stories. Haiku was acceptable to me, but it did not punch me in the right way at first. When Croatian haiku poet Darko Plažanin won the Ehime Prefecture Grand Prix in 1990 at the National Cultural Festival in Japan, it was written about in the Croatian daily papers. Darko's haiku appeared very awesome to me:
after the storm
a boy wiping the sky
from the tables
Immediately, I saw grayish/white tables of a terrace bar and a young, nimble waiter wiping the remaining drops of the rain from the tables. The reflection of the sky was disappearing; the boy unaware of erasing the whole sky from somebody's eyes, probably not even seeing the sky on those tables himself.
This haiku had it all. It told me to look at the sky, reflections come and go. You will have storms in your life but there will always be a clear sky afterwards. You are presented with many gifts, don't wipe them off the table…
For, haiku is an open poem, it touches the reader's imagination. Some other time, some other mood, the same haiku may be experienced differently.
Upon his return from Japan, Darko started the Samobor Haiku Meetings and a dear friend of mine gifted me with the joint collection of this haiku gathering. She said, "This is something for you!" And so it was.
Do you have a haiku mentor? What advice did they give you? Did someone else's haiku greatly influence your own?
After reading haiku and books on Japanese culture by Vladimir Devidé and some foreign authors (we had no internet yet), I wrote a letter to Devidé, presenting him with my first works asking his opinion and advice. In his early answer, instead of telling me my work was not even haiku, he asked me to translate poems into English and send them back to him.
At that time I was an excited beginner with much enthusiasm and everything around me was haiku. But, I had to adopt the form and its rules. Time for much studying.
Soon, I became a member of the British Haiku Society and it was a great honor to have my work published in Blithe Spirit. The editors of English haiku magazines throughout years have been kind, giving me much needed advice and help. I must say, even after thirty years in haiku, I'm still learning, and often, from much younger authors and editors than I. Many years later, I see how I could've written some poems in a much better, shorter way. But, that's the beauty of learning. Not every haiku or every story we write will become a masterpiece. The important thing is, it illuminates and enriches our life while we create it. Then it will do so for our readers.
Where do you most often write? Do you have a writing process?
To me, there are two different meanings of the word haiku: as an event, and as a written down poem. Haiku is an involuntary happening in my surroundings that enters my consciousness unannounced and unexpected, a very special a-ha moment that connects my inner world with the rest of the Universe. For a jiff, it wangles me from my thoughts and everyday things. A feeling for haiku is among the most valuable gifts I was lucky to be presented with. So also is haiku's doctrine of simplicity, awareness and modesty. This not only affects all my writing in a positive way, it impacts the way that I live.
Like lightning, an a-ha moment disappears quickly. It is important to write it down the very moment it happens. Latter editing and translating is a very serious work to be done and sometimes it takes even months to polish a certain haiku well enough. No matter how many haiku poems a poet has published, for true haiku – one that indeed connected the poet's being with nature and touched his/her haiku spirit – he/she will always know when, where and how this connection happened, will have the whole story to tell, and will enthusiastically relive that moment again. Desk haiku do not have the roots and thus wither soon.
How do you approach reading haiku?
Nowadays, I read and translate a large number of haiku. In earlier years, most of my reading time was spent trying to get acquainted with the culture of great Japanese haijin, the founders of haiku as we know it today. I wished to become familiar with quality authors from Western culture as well. Haiku went global and has been created in many different cultures and languages. Sometimes, in order to be able to understand haiku, the reader should do some research about the author, and the place and time he's lived (or lives) in.
Also, there are haiku poems that are timeless. It's Issa I'm thinking about every time some stubborn fly is around me. When the moon is in the window (untouched by the thief), Ryokan is on my mind:
The thief left it behind:
the moon
at my window
Or during the winters, I've been watching the sparrows on a bough through J. W. Hackett's eyes:
Bitter morning
         sparrows sitting
                   without necks.
During harsh winters sparrows "have no necks." Just like people, they squeeze into themselves trying to maintain their own body warmth. But I never realized it before. It was that a-ha moment. Yes, indeed, it is so. Why wasn't I aware of it earlier?
When reading a haiku new to me, I relax and let it take me into the world that it has already taken its author to. I know, no haiku is read the same way twice. Every reader experiences haiku in his own way. Even reading the same haiku within several days, one may discover an entirely new view of the poem which touches the reader in an unpredictable way.
Studying haiku is a serious and long-term adventure!
For those just starting out, what advice would you give?
Be true to yourself. Read quality haiku as much as you can, meet with and write to haijin who will gladly share their experiences with you. The haiku community is very friendly, join it!
Respect all living beings, live with all your senses open, and haiku will find your poetical soul and enrich your life.
What are some of the fun ways that you have used or experienced haiku?
Since my husband is a haiku poet as well, often we share our haiku moments. So, there was this crow in our back yard lawn, standing on its left leg and holding a chicken wishbone in its right leg in the air, pecking at it very studiously. Hubby was just around the corner of the garage, and I knew, if I had called him to see this enchanting sight, the bird would fly away.
Still and numb, I watched the crow, realizing it had kept an eye on me as well. Should we tag the wishbone, a humorous note went through my mind? Then, my husband walked into our quiet and beautiful connection and the bird and its brunch took off…
No trifle is a trifle at all! Everything is worth our attention and respect.
One day during fall, I was watching the poplars on the parking lot thinking of a haiku by Enes Kišević:
Look, a fish skeleton
planted by the river:
poplar in the Autumn.
Then it appeared to me, each of the poplar tree fish skeletons had a very special, green arrow on the top of it! Those were the youngest twigs with belated green leaves not touched by the frost yet. And it looked to me as if poplars point the arrows to the sky. My friend – after my pointing to the phenomena and after thoughtful study of the leafless trees – gave me one of those weird looks. She was not able to see the arrows, just like I did not realize they might be the heads of those fishes. That I understood several years later, lol!
What are your favorite haiku that you have written? Can you share a story behind some of them?
I was caring for my mother, severely handicapped and demented in her eighties. It had been a very difficult and stressful time for me, yet at times she recognized me and we had much fun together. I learned to value those hours with all my heart. On a particular summer day, after duties around my patient, kitchen, and the household ended for the time being, I took a rest on the bench in the garden, in the front of my mother's window, with a cup of coffee. There we have a few large fruit trees. Tired and emotionally exhausted, I raised my gaze towards a clear blue sky among the canopies. Not a single cloud there. Silence without even a single bird chirping, no cars passing by. Then this breeze…Instantly, I was far away from all my problems:
forest clearing
summer breeze suddenly changed
contour of sky
In the evening, at sunset, from my office I was bird viewing the town below my window with a feeling of tranquility and peace. A strenuous day was over. I felt much tenderness and empathy for destinies under those roofs, I was to join them as well. We all have problems, each in his own way; one can only wonder what they are, but the sun will rise again…
all these shiny roofs
and just enough moonlight
to tuck in every tile
I was biking on some village road at time cows were taken to the pasture. A bit tired, I had to slow down and could not pass two cows, probably both pregnant on a very narrow, dusty road with deep ditches on both sides. The cows followed their master, innocent and unaware of me, working off their obligatory life to the welfare of a village family. They were covered with flies and gadflies. At first angry, somehow their steady and slow steps calmed me down. I then realized I loved them for being just the way they are. I had no idea how much they suffered from bites of all those insects. Their large udders were swinging … Suddenly, I had respect for them and life they live; to feed man and his children with milk, give him calves that will be taken away from them way too early. They've taught me something very important. It is not I, my feelings and needs, that is the most important thing in the world. We all are and should be equally respected: the cows, the birds, people…
cycling in the country –
a couple of cows slowly
pulling their tails
What haiku-related project are you currently working on that brings you joy? What do you like about it?
I'm working on the haiku magazine IRIS and I enjoy sharing the fun with other poets on the editorial board. I also coordinate the haiku contests. I'm thankful for having the ability and opportunity to give my contribution to strengthening ties between man and nature and among poets by means of haiku poetry, thus sending messages about modesty, respect and empathy through the haiku community. Many a member of today's materialistic society still needs to learn to win over his own greed and wrongful aims, which endanger life on our planet altogether. For four centuries, the haijin have been telling us that we are a part of nature, not its owners and masters. And of course, I'm thankful for all my haiku-friends with whom I share my love of the written word, poetry and haiku. It's a way to live a full and creative life and share it with others. I cherish it.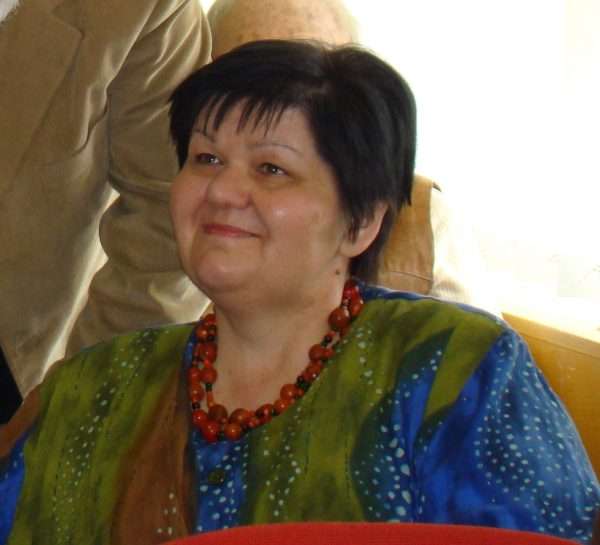 Djurdja (Đurđa) Vukelić Rožić (1956, Croatia) edits the annual haiku magazine IRIS, now in its 15th year. As a translator and editor, she has worked on a number of anthologies and joint collections. A writer with 26 published books, she creates in Croatian, Kajkavian, and English. She has received a number of awards at home and abroad for her work.