New to Haiku: Advice for Beginners – Christina Sng
This week, New to Haiku is pleased to interview Christina Sng.  A two-time Bram Stoker Award winning horror poet, she has won numerous prizes for her haiku, including the Jane Reichhold International Prize. She is the author of two haiku chapbooks: A Constellation of Songs and Catku. Thanks for sharing your haiku journey with us, Christina.
In Advice for Beginners posts, we ask established haiku poets to share a bit about themselves so that you can meet them and learn more about their writing journeys. We, too, wanted to learn what advice they would give to beginning haiku poets.
Welcome to New to Haiku, Christina! How did you come to learn about haiku?
Hi Julie, thank you so much for inviting me.
I first learned about haiku through reading Star*Line, which is published by the Science Fiction & Fantasy Poetry Association in the United States. From there, I discovered a magazine called Scifaikuest. I began writing scifaiku and the editor, Teri Santitoro, offered great editorial advice and helped me hone my ku. Once I got the fundamentals, I began writing haiku and found it so peaceful. I never looked back.
Where do you most often write? Do you have a writing process?
I usually write on my phone. I used to write in a notebook then transcribed it to my phone. Now, to save time, I just type it into a Notes app.
I try to observe the moment and write according to that. Sometimes it is a memory and sometimes it is something happening right now, like an unexpected rain or my cat nuzzling my foot.
How do you approach reading haiku?
Haiku is like a breath of a moment and I read them as parts of a poet's life that they are glad to share.
I appreciate the nuances of every word as so often, haiku can be read and interpreted in many ways.
For those just starting out, what advice would you give?
Read a lot of haiku.
Study the guides. It's so easy to forget in the whirlwind of life.
Write a lot. Write as often as you can.
The heady joy of documenting your life through haiku is unparalleled.
What are some of the fun ways that you have used or experienced haiku?
I've experimented with one line and two line haiku and love both. I love to use alliteration and humor in haiku.
What haiku-related project are you currently working on that brings you joy?
I love just writing haiku. It brings me much joy. I've been compiling a book-length collection but have yet to find a publisher. Because of the nature of haiku, I don't feel compelled to rush the process. That brings me peace.
What are your favorite haiku that you have written? Can you share a story behind one of them?
a world

of possibilities

my cat in a box

—Star*Line 39.4, 2016
I have many favorite haiku but if I had to pick one, it would be this one.
It has numerous interpretations and is full of subtle nuances, which I love, particularly the shoutout to Schrödinger and the fact that cats get up to all kinds of mischief in boxes that you don't see till you open the box!
Congratulations on your recent second place Elgin win for A Collection of Dreamscapes. You are known as a master of horror and dark fantasy poetry. You've described your upcoming book, The Gravity of Existence, as "a collection of my best horrorku, scifaiku, fairy tale ku, and other terrifying tiny poems." What do you think is key to writing good horrorku? What makes a haiku terrifying?
Thank you for your well-wishes and kind words!
I think what's key is to tell a great story. Line one: the hook, line two: the crux, line three: the twist.
A horrorku is terrifying if it scares you but what scares you is subjective. A safe bet is the unknown. The unknown always scares us the most.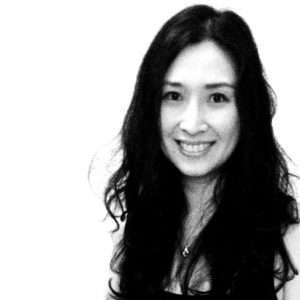 Christina

Sng
is a poet, writer, artist, and essayist. Her work has been featured in numerous venues worldwide, including
Cricket, Daily Science Fiction, Fantastic Stories of the Imagination, Southwest Review
, and
The Washington Post
. She has received many accolades for her poetry, including two Bram Stoker Awards for her books
A Collection of Dreamscapes
(2020) and
A Collection of Nightmares
(2017), the Jane Reichhold International Prize for her haiku, and the Jane Reichhold Memorial Award for her traditional haiga. Visit her at
christinasng.com
and connect @christinasng.
We'd love to hear from you in the comments. The Haiku Foundation reminds you that participation in our offerings assumes respectful and appropriate behavior from all parties. Please see our Code of Conduct policy for more information.