HAIKU DIALOGUE – The Language of Flowers – The Scent of Flowers
The Language of Flowers: A Global Perspective with Guest Editor Carole MacRury
Floriography, the sending of secret messages via coded flower arrangements, was popular during the Victorian Era (between 1837 and 1901). Hanakotoba is the Japanese form of the Language of Flowers. Countries around the globe have their own language, myths, meanings, history and symbolism pertaining to flowers, some going back thousands of years. While the sending of secret messages through flowers might not be as popular today as it was in the Victoria age, we still use flowers to express significant moments in our lives, such as births, deaths, weddings, religious services, holidays and specific cultural and personal ceremonies.
We grow gardens, arrange flowers, and pick wildflowers to brighten our homes. The scent of flowers can lift our spirits or cause an allergic reaction. We communicate through the color of flowers. White, for instance, can represent purity, innocence, or death depending on one's culture. Flowers throughout history have been used for their mind-altering effects. The poppy for instance evokes remembrance of those fallen in war, but also represents their medicinal ability to ease pain and our passage out of this world, or cause addiction. Flowers flavor and spice our food, or help heal our ailments through herbal remedies. Many countries around the globe have a national flower. Our hearts are lifted or broken through flowers, either cultured or wild. We are inspired by flowers through art, music and literature, whether exploring the sensuality of Georgia O'Keefe's blossoms, or taking a trip down memory lane listening to Pete Seeger's ageless melody, "Where Have All the Flowers Gone," a song as relevant today as yesterday. Sadi, an ancient Sufi poet says, "buy hyacinths to feed thy soul."
My photos are meant to inspire you to dig deep into your own relationship with flowers within the framework of your own specific cultures through each weekly sub-theme. My preference has always been to look closely into flowers in all stages of their lives: bud, blossom, fading. I find that looking into the heart of a flower one often finds oneself.
Banner Art courtesy of Sondra J. Byrnes Haiku Poet and Ikebana Artist
next week's theme: Flora as Food and Medicine
Many flowers are edible, including petals, seeds, and leaves, and have been in our diet for thousands of years. Chinese cooks experimented with edible flowers back in 3,000 B.C.E. Ancient Romans ate violets and roses, and added lavender to sauces. We munch on sunflower seeds, decorate cakes with candied violets, add nasturtiums and dandelion greens to our salads, drink healing tisanes and rosehip teas. We grow our own herbs to enhance our food, lift our moods in sachets, or heal various ailments. Sometimes we use chicory as a coffee substitute. We brew elderberry wine, or if you're old enough, remember drinking "Ripple," the cheap strawberry wine of the '60s. We fry cheese-stuffed zucchini blossoms and bake lavender scones. Almost all the spices we love come from flowering plants either through drying buds as in cloves, or using the crimson stigmas of the saffron crocus (Crocus sativus) to color and flavor our food. We grow herb gardens, and use the leaves before they flower, such as basil, parsley, cilantro. Thanks to the opium poppy our passage from this world can be eased with morphine. Herbalists around the world create tinctures and remedies for plant-powered wellness to ease our joints. As children we, too, sucked the sweet nectar from clover. Show me a moment in your life that involves plants, either savory, sweet, medicinal or recreational. Let the flora of your region inspire you. I chose this photograph because its disturbed center reminds me of saffron threads or a sprinkle of spices.
The deadline is midnight Pacific Daylight Time, Saturday May 21, 2022.
Please use the Haiku Dialogue submission form below to enter one or two original unpublished haiku inspired by the week's theme, and then press Submit to send your entry. (The Submit button will not be available until the Name, Email, and Place of Residence fields are filled in.) With your poem, please include any special formatting requirements & your name & residence as you would like it to appear in the column. A few haiku will be selected for commentary each week. Please note that by submitting, you agree that your work may appear in the column – neither acknowledgment nor acceptance emails will be sent. All communication about the poems that are posted in the column will be added as blog comments.
below is Carole's commentary for the scent of flowers: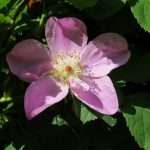 My thanks to everyone who contributed haiku to this week's theme: the scent of flowers. I received an overabundance of lavender and lilac poems in remembrance of parents and grandparents, and lily haiku in remembrance of loss and grief. While these shared memories bridge cultures and were wonderful to read, it meant that I had to be more selective in my choices to avoid repetitions. Also, I wanted to show diversity in haiku styles. I looked for an economy of language such as best words in the best order, originality, form, rhythm, and a sense of authenticity. Thanks so much for this bounty of memories. Many poems not selected were full of potential and I felt honored to read them. Here are just a few of my favorites. I often find less is more in haiku and much can be sensed within the juxtaposition of the two parts of a haiku. There are so many fine poems in the longer list that deserve notice and commentary. Please share your favorites.
wildflower scents…
tip-toeing the less traveled
trails

Richard Matta
San Diego, California
This haiku reminds me of a recent experience in my woods where a rare lily was discovered and photographed by a friend. Unfortunately, before anyone else could see it, it was trampled by off-leash dogs. I appreciated the use of 'tip-toeing' to demonstrate a sense of quiet and caution. The phrase 'less-traveled' hints of Robert Frost's famous poem "The Road Not Taken" where the poet also chose the road less traveled. The musicality of this haiku, found in the alliteration of 't's and the assonance of 'scents/less,' holds the poem together to make it memorable and a joy to read aloud. Its strength also lies in the space between the fragment and the phrase that allows for multiple interpretations. Is it a simple poem of taking care in following the scent of wildflowers on a less traveled trail, or does it hint of a subtle metaphor that speaks to the human condition? I tend to feel both.
the lingering scent
of a past life…
patchouli

Pat Davis
NH USA
I chose this poem because of its understatement. While there are many lovely poems where the scent of a flower brings back a particular memory, this poem speaks to an entire past life full of memories. It suggests a specific era. The strength of the haiku lies in the choice of flower, 'patchouli,' a source of essential oil used in many products, including incense, perfumes, and cosmetics. A scent that surged to popularity in the '60s and '70s during the decades of the hippie generation, a counterculture that became a way of life for many and whose influences can still be felt today. Just the scent of patchouli brings back the incense I used to burn. The poem is spare yet open to the reader's own experiences. The alliteration of 'lingering/life' and 'past/patchouli' are poetics that make this poem memorable.
blind date
the mortician
brings lilies

Richard Straw
Cary, North Carolina
This is an excellent senryu and a refreshing take on lilies and on the language of flowers itself. Lilies, especially white lilies are a flower commonly associated with funeral services. They are said to represent the soul of the deceased. Depending on one's culture they can also represent purity, beauty, and innocence. I have been on a few blind dates in my life, fortunately none with a mortician. Have you ever wondered what happened with all those flowers so often left behind at funeral homes? I enjoyed this unique take on the language of flowers.
spring
all our vases
full

Roberta Beach Jacobson
Indianola, Iowa, USA
A minimalist haiku of five words, yet this strong image speaks volumes. The entire haiku is an exuberance of joy. This is an example of the power of showing over telling. The emotion spills out through the fullness of not one, but 'all' of our vases. Nothing needs to be said about the scent of flowers because the vases speak for themselves. The spring setting brings in the season of anticipation and new beginnings. It couldn't be summer and be the same haiku. It has to be spring.
lilacs. . .everybody's grandma

Terri French
Huntsville AL
I felt compelled to share this one because so many who submitted to this week's theme spoke to a particular floral scent that brought back memories of grandmothers. Lilac was one such scent. These three words offer a sense of nostalgia for a time gone by. It is filled with lilac-scented warm embraces and sachets tucked into lingerie drawers. It's an ode to our memories of grandmothers of a certain era. What would we say about today's grandmothers with their abundance of exotic perfumes?
& here are the rest of the selections:
hawthorn blossom –
the bittersweet scent
of hay fever

Jonathan Aylett
Liverpool UK

a sip
of grandma's garden
honeysuckle

Marilyn Ashbaugh
Edwardsburg, Michigan

new moon
scent of plumeria
fills the silence

Ravi Kiran
India

scented letter
the faded blue ink
of a lost generation

Jackie Chou
United States

wild orchid—
how deep is the pain
of this betrayal

Hifsa Ashraf
Rawalpindi, Pakistan

perfume bottle
the faint scent
of sweet sixteen

Pris Campbell
USA

sharing solitude
with my dog…
wild roses

Mariangela Canzi
Como Italy

peony petals
drifting in dust
his last letter

Anna Yin
Ontario, Canada

scent of lavender, Grandmother's embrace

Christopher Seep
Ballwin, MO, USA

hospice lilies
now and forever
the scent of death

Bryan Rickert
Belleville, Illinois USA

hawthorn
a wedding dress
in the closet

biancospino
un abito da sposa
nell'armadio

Daniela Misso
Italia

a hint
of lily-of-the-valley
–my daughter born late

Susan Bonk Plumridge
London, Canada

midnight walk
we agree
it's lilacs

Susan Farner
USA

overtime…
why does his shirt smell
of freesias

Vandana Parashar
India

homecoming
a faint scent of mogra
in mom's hug

(mogra, the white jasmine that thrives in India)

Sushama Kapur
Pune, India

love letters –
the ineffable perfume
of each story

Mirela Brăilean
Romania

how well he leads in paso doble almond blossom scent

Helga Stania
Switzerland

those wild happy hours
in the back yard…
cat mint in bloom

Laurie Greer
Washington, DC

wildflowers…
the many fragrances
of my childhood

Srinivas S
India

fragrance lingers
through the wormhole
muguet des bois

(Muguet des bois are lilies of the valley in France; also a perfume)

Colette Kern
United States

the exploding
scent of stargazers
open casket

Mariel Herbert
California, USA

jasmine scent… the parrot always calls her name

Mircea Moldovan
România

warm wind
finds the lilacs
time machine

Ann K. Schwader
Westminster, CO

salvia flowers
the color of calm
morning meds

Rehn Kovacic
Mesa, AZ

lavender incense
mom's prayer travels
to each room

Mona Bedi
Delhi, India

woodspice
the last bottle
of granddad

James Gaskin
Fukushima, Japan

patchouli –
all the purple
of my teenage years

Annie Wilson
Shropshire, UK

fog on the beach
the musk
of damp rose hips

Lorraine A Padden
San Diego, CA USA

jasmine tea
the scent of
his apology

Teji Sethi
India

long gone . . .
breathing jasmine
in her comb

Aparna Pathak
Gurugram, India

a long goodbye –
I still smell the scent
of camellias

Maria Teresa Sisti
Italy

grandma follows
the gardenia
her eyesight fading

M. R. Defibaugh
United States

sufi shrine
prayers perfumed
with attar

R. Suresh babu
India

scent of jasmine-
the memories
among her folded sarees

Ram Chandran
India

abuzz with may/bees honeysuckle breeze

Sarah Metzler
United States

summer camp
braiding jasmine buds
at grandma's

Daya Bhat
India

remember
her fragrance, but
forgot her name

Dan Campbell
Virginia

the blossom thief
blows the scent of heaven
around

de bloesemdief
blaast de geur van de hemel
in het rond

Guido De Pelsmaeker
België

asthma attack
all the flowers at Lowes
stuck in my lungs

Susan Burch
Hagerstown, MD

homegrown roses
my new neighbour's
welcome

Margaret Mahony
Australia

lavender
my stress goes up
in smoke

Lev Hart
Calgary, Canada

absence –
filling the room
with his favorite flowers

Daniela Lăcrămioara Capotă
Romania

California Poppy —
faint in the bulb
of her atomiser

Alan Peat
Biddulph, United Kingdom

mums perfume
once more I find myself
in mourning

Tracy Davidson
Warwickshire, UK

tea rose
the scent of my father's
hand in mine

Firdaus Parvez
India

sweet scent of lilacs
lost to COVID
found in its color blue

Caroline Giles Banks
Minneapolis, Minnesota, USA

trapped in lilac scents
images of the prom
never attended

Gloria Whitney
Findley Lake, NY USA

jasmine scent
leafing through her books
yet again

Minal Sarosh
Ahmedabad, India

magnolia blooms
a scent that draws me
back to the stars

simonj
UK

Fragrant freesias:
My first, wedding bouquet —
I gag at their scent.

Jenny Shepherd
London

the scent of oranges lingering labour shortage

Wanda Amos
Australia

scent of honeysuckle
my mother hums
a tune from 50s

Padma Rajeswari
Mumbai, India

knowing
we're almost home
orange blossoms

Kath Abela Wilson
United States

billows of lavender
in midsummer–
thunder

Ana Growl
Surrey, UK

open windows. . .
the scent of plum trees in bloom
enters the train

Tomislav Maretić
Croatia

honeysuckle–
summers of my youth
riding the breeze

Byron Sharpe
Baton Rouge LA USA

a splash
of rosewater . . .
her soft skin

Barrie Levine
Massachusetts USA

sandalwood soap . . .
the quiet devotion
between bee and flower

D.M. MacDonald
Sacramento, California

marigolds –
the scent of sundown's
fading orange

Lori Kiefer
London, UK

before the loss
of my sense of smell. . .
jasmine

Deborah P Kolodji
Temple City, California

Covid time
what he would give
to smell roses again

Sherry Grant
Auckland New Zealand

led by
a slight sweet scent
to the moonflower

kris moon kondo
Kiyokawa, Kanagawa, Japan

opening night
a trumpet lily
steals the show

P. H. Fischer
Vancouver, Canada

starry sky . . .
dandelion fluffs
carried in the wind

Ivan Gaćina
Croatia

oriental lilies
the overwhelming
sense of grief

Sharon Martina
Warrenville, IL

the smell of guns and roses

Vicki Vogt
Watertown, MA United States

granny´s birthdays this lifelong dislike for lilac

Deborah Karl-Brandt
Bonn, Germany

heather in bloom –
the musky fragrance
of a highland lass

Paul Callus
Malta

deep night
a plumeria falls,
fragrance intact

Subir Ningthouja
Imphal, India
Guest Editor Carole MacRury resides in Point Roberts, Washington, a unique peninsula and border town that inspires her work. Her poems have won awards and been published worldwide, and her photographs have been featured on the covers of numerous poetry journals and anthologies. Her practice of contemplative photography along with an appreciation of haiku aesthetics helps deepen her awareness of the world around her. Both image and written word open her to the interconnectedness of all things; to surprise, mystery and a sense of wonder. She is the author of In the Company of Crows: Haiku and Tanka Between the Tides (Black Cat Press, 2008, 2nd Printing, 2018) and The Tang of Nasturtiums, an award-winning e-chapbook (Snapshot Press 2012).
Lori Zajkowski is the Post Manager for Haiku Dialogue. A novice haiku poet, she lives in New York City.
Managing Editor Katherine Munro lives in Whitehorse, Yukon Territory, and publishes under the name kjmunro. She is Membership Secretary for Haiku Canada, and her debut poetry collection is contractions (Red Moon Press, 2019). Find her at: kjmunro1560.wordpress.com.
The Haiku Foundation reminds you that participation in our offerings assumes respectful and appropriate behavior from all parties. Please see our Code of Conduct policy.
Please note that all poems & images appearing in Haiku Dialogue may not be used elsewhere without express permission – copyright is retained by the creators. Please see our Copyright Policies.