HAIKU DIALOGUE – Rooms – Looking In (2) & Introduction to Times of Transition
Rooms & Introduction to Times of Transition
Thanks to Guest Editor Marietta McGregor for her photos, & the last few weeks of new perspectives. Now we welcome Guest Editor Deborah Karl-Brandt with life transitions – enjoy! kj
Introduction to Times of Transition with Guest Editor Deborah Karl-Brandt
For the next few weeks let's talk about Times of Transition. Arnold van Gennep and Viktor Turner explored these times of transition scientifically, because human existence is defined by them. So, together, let's do the same – by reflecting on our lives. All of us experience periods in life when alteration takes place and we have to change too. Everything changes: the seasons, moods, the weather – there might even be times when the boundaries of right and wrong, of good and evil seem to change. We are caught in the middle of transition, becoming opaque like water in turmoil. Looking back, we hardly recognize our way up to the present; looking forward, our path seems to be foggy and uncertain. Sometimes we are challenged to let go of our former self to become someone new.
next week's theme: From youth to adulthood
Closed due to reconstruction. Growing up is hard. Some can't wait, while others want to drag it out as long as possible. Growing up happens all at once or growing up drags on like chewing gum. Write about celebrations and rituals that accompany the moment when we grow up. Write about experiences that made you leave your childhood behind for good. Write about your prom, your college graduation, your first lease, or how you suddenly had to care for your sick mother. This is about your coming of age.
The deadline is midnight Eastern Daylight Time, Saturday August 05, 2023.
Please use the Haiku Dialogue submission form below to enter one or two original unpublished haiku inspired by the week's theme, and then press Submit to send your entry. (The Submit button will not be available until the Name, Email, and Place of Residence fields are filled in.) With your poem, please include any special formatting requirements & your name & residence as you would like it to appear in the column. A few haiku will be selected for commentary each week. Please note that by submitting, you agree that your work may appear in the column – neither acknowledgment nor acceptance emails will be sent. All communication about the poems that are posted in the column will be added as blog comments.
Below is Marietta's commentary for Looking In too: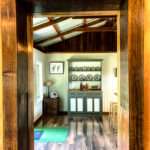 A deep bow of thanks to all poets who responded to the prompt of "Rooms – Looking In." What a wonderful range of perspectives. I enjoyed your poems which focussed on earliest memories and also your more contemporary observations, as well as the wide variations in observational scale, ranging from a peep through the window of a model car to a cosmic view of the universe. Rather than being snapshots from nature, most poems dealt with aspects of our human condition, understandable given the theme of "Rooms." As I collated your emails in the order in which they arrived, it was interesting to see how certain images would recur, one of the most notable being poems about attics which happened to fall into something resembling a short sequence. Thank you all, and thanks again to Managing Editor Kathy Munro and Post Manager Lori Zajkowski, and to The Haiku Foundation for hosting Haiku Dialogue.
a piece of a wing
possibly a butterfly
in the hospice

Barbara Anna Gaiardoni
Verona Italy
While seeming to be objective in tone, this moving haiku holds subtle layers of meaning. In a hospice away from the world, time passes slowly, edging towards what is inevitable. Between silences, the writer notices small details of their surroundings. In this case, something which doesn't belong, a wing fragment. Perhaps what draws their eye is a tiny flash of iridescence, wing scales, as well as a distinctive and recognisable form. The writer pauses to wonder about this fragment. How did a butterfly come to be here? Through an open window, or on a bunch of flowers? The torn wing is a sombre reminder of our own transience, and indeed the haiku could be read as a death poem. The haiku does not have a phrase/fragment structure with juxtaposition, but is a one-part haiku which has an implied "cut" at the end of the poem, rather than within, as is more usual. Michael Dylan Welch writes more about this form in New to Haiku: Advice for Beginners on The Haiku Foundation's website.
Christmas Eve—
in Grandma's storeroom
the last vanilla pod

Steliana Cristina Voicu
Ploiesti, Romania
What treasure vanilla pods have always been! The dried fruiting pod of a tropical climbing orchid originating from Mexico, vanilla is a precious spice which imparts delicate flavour to pies, cakes, cream and custard, dishes we often enjoy at Christmastime. This haiku sets the season and the place. No strangers to hardship over their lives, our frugal grandmothers were careful to store staples they could use all year. Vanilla pods keep for years, especially if stored in a little sugar or brandy. We don't know if it's grandmother who has found she's down to her last pod, or her family who have inherited her pantry staples with her blessing and have gone on using them. It seems with this discovery that something has ended, and another precious link with a dear relative is no more.
westering sun
in mother's drawer
my first wedding photo

Keiko Izawa
Japan
This haiku intrigued me from first reading. The setting is afternoon, which may carry the implication of some sort of closure. We wonder if the speaker is needing to sort out a mother's possessions. Whatever the reason, in a parent's drawer something unexpected has been found tucked away – a photograph of a first wedding. It can be very hard for in-laws to lose someone they have come to love but who is no longer part of the family after a break-up. My reading of this haiku is that a first marriage has indeed ended, leading me to wonder what the mother thought of her child's former partnership. Loving them both, when it ended did she feel sadness, keeping a photograph to remind her of happy times now only in the past?
nursing home resident
pimpin' out
her new crib

Susan Burch
Hagerstown, MD
This lively senryu takes a refreshingly optimistic view of a change that not everyone welcomes. Daily we read articles asserting that 60 is the new 40, and fashions cycle from boho crochet and hippie bell-bottoms to shoulder pads and back again, so why shouldn't we make the most of where we live. The tone/idiom of the poem immediately conveys the character and mindset of the subject, whom we know certainly has a "glass half full" philosophy and is fully set on enjoying what time she has, making the most of it and her surroundings. Senryu, as well as haiku, often benefit from a little humor!
the baby's room
even her nap
a shade of pink

Barrie Levine
Massachusetts, USA
I loved the idea that a nap may have a colour, and it made me wonder what shades other snoozes could possibly be! Teenager – banana yellow; grandpa – tobacco brown; dog – grass green? Synesthesia, involving altered sensory perceptions of familiar stimuli, is a useful technique in haiku writing and can provide for very unexpected 'aha' moments. Here, someone has gone all out with the pink theme for a nursery, and the poet cocoons the baby in a rosy glow which suffuses the whole poem, allowing us to imagine the warm soft breaths and plump pink cheeks of the sleeping infant. Topical too, given the excitement generated by the pink-washed satire about a certain toy currently setting movie box office records. This senryu is another example of a one-part haiku which has the cut at the end of the poem.
boyfriend's room
my number written
in floor dust

Arvinder Kaur
Chandigarh, India
This senryu gave me a good chuckle. I wonder if the speaker's visit to the boyfriend's room is unexpected, giving him no time to shove dirty clothes under cushions and run a quick mop over visible areas of floor. Or is it always like that? While it's not uncommon to see notes scrawled on dusty cars, does the sight of a layer of dust in someone's sleeping quarters herald a possible deal-breaker for the relationship? Or is the speaker simply pleased that the boyfriend at least has gone to the trouble of recording the phone number. Could go either way! After all, even the great Issa told the spiders he kept house casually.
open grave
not knowing why
I stop for a moment

Maya Daneva
The Netherlands
A quietly meditative poem which evokes feelings we may have when confronted with reminders of our own fragile humanity. The speaker comes upon a grave which awaits its occupant. Out of respect, a natural instinct would be to pause a moment, wondering who will be interred there, and relate this ending to our own situation and family.
museum
I sit in silence
by a fish fossil

Gregory Longenecker
United States
In the Devonian Period long before the dinosaurs, rivers teemed with ancient armoured placoderm fishes. This poem reminded me of a quiet and often deserted museum at Canowindra, in back-country New South Wales, Australia, one of only two in the world entirely devoted to the great Age of Fishes. I imagine the speaker beside an immense slab of sandstone containing layer upon layer of perfectly preserved fish remains, musing on ancient catastrophes, the overwhelming passage of time, and our own minuscule place in Earth's history.
Join us next week for Deborah's selection of poems on the theme of From youth to adulthood…
Guest editor Marietta McGregor is a fourth-generation Tasmanian who has made her home between Australia's national capital Canberra and the scenic south coast of New South Wales for over four decades. A lover of the natural world since childhood, she went on to study botany and zoology, and has worked as palynologist, garden designer, science journalist, editor, university tutor, education manager, and grants developer for the national wildlife collection. A photography and travel enthusiast since retiring, she enjoys capturing fine detail of fleeting moments. She came late to haiku, which appealed for its close observation and poetic expression of ephemeral experience. Her haiku, haibun and haiga have been widely published, have won awards and appear in anthologies.
Lori Zajkowski is the Post Manager for Haiku Dialogue. A novice haiku poet, she lives in New York City.
Managing Editor Katherine Munro lives in Whitehorse, Yukon Territory, and publishes under the name kjmunro. She is Membership Secretary for Haiku Canada, and her debut poetry collection is contractions (Red Moon Press, 2019). Find her at: kjmunro1560.wordpress.com.
The Haiku Foundation reminds you that participation in our offerings assumes respectful and appropriate behavior from all parties. Please see our Code of Conduct policy.
Please note that all poems & images appearing in Haiku Dialogue may not be used elsewhere without express permission – copyright is retained by the creators. Please see our Copyright Policies.