HAIKU DIALOGUE – Rooms – Looking In (1)
Rooms with Guest Editor Marietta McGregor
The month of July is about a room of one's own, or someone else's. Many of us spend more time within four walls than we do outside. We are born, die, sleep, eat, write, paint, sew, sing, converse, discourse, learn, worship and interact in enclosed spaces. Often we seek out or create these spaces because they provide creature comforts. Animals have rooms of their own. A bear seeks its den to hibernate. Wombats and rabbits dig to create burrows. Birds build nests. Virginia Woolf extolled the advantages of a private income and one's own space. Rooms can be working sanctuaries, but if our enclosures become overly constricting or confining, we may feel the walls are 'closing in' on us, as many felt during pandemic lockdowns.
Below is Marietta's selection of poems on the theme of Looking In: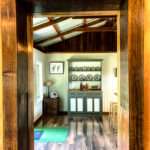 Snowy pavements—
shop window mannequins
in bikinis

Caroline Ridley-Duff
UK

the hunched back
of a piano player
window sonata

marilyn ashbaugh
edwardsburg, michigan usa

old classroom
the benches still bear
our names

Srini S
Rishi Valley, India

forget me nots
in the room my mothers voice
no longer there

Stephen A. Peters
Bellingham, WA

the kayak
attached to the ceiling
a reminder of her son's exploits

Ann Rawson
UK

watercolours on the table—
preparing the story
that I'm going to tell today

Daniela Lăcrămioara Capotă
Romania

clam bake
raconteurs settle into
their Bigfoot theories

Sheila Barksdale
Gotherington, England, U.K.

Hamm's beer sign
looking into the bar's version
of a stained glass window

Rehn Kovacic
Mesa, AZ

the chatter of teens
from behind closed doors
. . . at least they're home

Baisali Chatterjee Dutt
Kolkata, India

tiny windows—
I still peep inside 'em
toy cars

Ashok Weerakkody
Sri Lanka

wedding hall
my first glance—a bat
on the chandelier

Sharon Ferrante
Florida, USA

doors of perception
staring into galaxies
inside a mushroom

John Hawkhead
UK

doctor's clinic—
next to the colored posters
child's art

Tuyet Van Do
Australia

grandma's kitchen
bits of grandpa's pipe tobacco
on the oilcloth

Cindy Putnam Guentherman
Illinois, USA

abandoned house—
the wallpaper someone
loved once

Lafcadio
USA

looking into my bedroom . . .
on the dresser
my parents' photo

Rosa Maria Di Salvatore
Catania Italy

pinholes of light
defeating the darkness—
old barn

Dan Campbell
Virginia

hospital ward
four old men
flushing all night

Charles Harper
Yokohama

receding up the wall
three ducks

wanda amos
Old Bar, Australia

happy family
glimpsed through the winter window
I hug my young self

Jenny Shepherd
London, UK

Nan fades
into white bed sheets
palliative care ward

Louise Hopewell
Australia

fragrance
in the disheveled bed
a twinkling toe-ring

Kavita Ratna
India

meditation hall . . .
I learn to watch the "me"
slowly disappear

HlaYin Mon
Yangon, Myanmar

the bed he was born in
I begin a sonnet
to Shakespeare's birthplace

Tracy Davidson
Warwickshire, UK

meditation room . . .
the singing bowl
waits to sing

Kathleen Trocmet
USA

shelves of
summer fantasies
the root cellar

Susan Farner
USA

Father's room emptied
the walls where the couches sat
not yellowed from smoke

James Feeney
Scotland

bluish moonlight
shines into the cockpit
sleeping pilots

Teiichi Suzuki
Japan

house warming. . .
dinner served
on the tree stump table

Aparna Pathak
Gurugram, India

a teenager's room inside a room

Vandana Parashar
India

vacant granny's room—
floating inside
the fairies from her stories

Ram Chandran
India

getting dizzy
faded on the vault
frescoes

Helga Stania
Switzerland

old age home—
she sits facing
the bare wall

Neena Singh
India

in one room
a roaring fire 選択 a piano
in the other

simonj
UK

museum . . .
between skeletons
an era

Sudebi Singha
Kolkata, India

after the footage
from the front line
an ad for sofas

Keith Evetts
Thames Ditton UK

through stained glass
more and more shadow play—
summer wake

Alfred Booth
Lyon, France

thunderstorm—
the wobbly steps
to my bedroom

Mona Bedi
Delhi, India

summer storm
going deep into my shell
in room #13

Bona M. Santos
Los Angeles, CA

bird house . . .
how the eyes of the barred owls
follow me

Laurie Greer
Washington, DC

family death
in his bedroom
the TV still on

Mark Meyer
Mercer Island WA USA

window suncatcher—
the rainbow painted on
my bedroom floor

Lorraine Schein
Queens, NYC

silence
of an empty classroom . . .
end of June

Angiola Inglese
Italia

all smiles
in the hospital room
yellow daisies

Lorelyn De la Cruz Arevalo
Bombon, Philippines

winter sun
on the dining room table
an unfinished jigsaw

Sue Courtney
Orewa, New Zealand

reception hall
the first room we enter
as husband and wife

Bryan Rickert
Belleville, Illinois

light from monitor
a couple on a Zoom call
meditating

Vivien Eliades
Brighton, UK

time capsule
nana's living room
just as she left it

Cynthia Anderson
Yucca Valley, California

autumn evening
a hint of aniseed
in the entrance hall

Daniela Misso
Italy

the bed
facing a mirrored wardrobe—
Paris hotel

Ruth Holzer
Herndon, Virginia

friend's cottage . . .
the scent of jasmine
in the first kiss

Samo Kreutz
Ljubljana, Slovenia

travel blog . . .
I look in and out
someone else's eyes

Jan Stretch
Victoria, BC, Canada

three hens perched
in the makeshift pen
moonless night

Kanjini Devi
The Far North, Aotearoa NZ

summer cottage
the scratched hallway
where the years have passed

Marianne Sahlin
Sweden

counselling sessions
the inward search
for answers

Carol Reynolds
Australia

one last look
before closing the door
her empty place

petro c. k.
Seattle, Washington

Camels and a hotplate
in the rented room
immigrant auntie

Ann Sullivan
Massachusetts USA

a peak
into her dollhouse
teatime

Ron Scully
Burien WA

tilting shanty
an empty corner
shines in sunlight

John Zheng
Mississippi

lightning—
the flash of cat
stepping in

Satyanarayana Chittaluri
Hyderabad, India

mixed in
piles of clean laundry
southern wind

Mariel Herbert
California, USA

morning rush
a strand of hair lingers
on the dressing table

Minal Sarosh
Ahmedabad, India

summer grove
in the zoom room
her dream home

Ann Smith
United Kingdom

skylight window
shifting the axis
of my thoughts

Hifsa Ashraf
Rawalpindi, Pakistan

hard lines
and gleaming surfaces—
the urge to sing

Ingrid Baluchi
North Macedonia

polytunnel
a butterfly's search for the sky inside

Tony Williams
Scotland, UK

new art gallery
on the counter a book
on fake paintings

A.J. Anwar
Jakarta, Indonesia

a baby monitor
next to my friend's bed
hospice visit

C.X. Turner
UK

entering the tavern—
I wait for my eyes to adjust
to the darkness

Tomislav Maretić
Zagreb, Croatia

room C4-16
Mother doesn't remember
any other home

Maxianne Berger
Outremont, Quebec

peeking past the cart
view from that hotel room
not as nice as ours

Sari Grandstaff
Saugerties, NY

polaroid
our years together
smiling back

Jenn Ryan-Jauregui
Tucson, Arizona USA

tea cup collection
covered in flowers
and dust…

Adele Evershed
Wilton, Connecticut

her secret space
open to the sky
Georgia O'Keefe

Kathabela Wilson
USA

a door
open into childhood
my old diary

Peggy Hale Bilbro
Alabama

dementia
his frail eyes count
the falling leaves

Lakshmi Iyer
Kerala

vecchia soffitta…
sulla mia tela i colori del vento
pieni di luce

old attic . . .
on my canvas the colors of the wind
full of light

Giuliana Ravaglia
Bologna Italy

dust-filled attic
the fairy stories
inherited from mum

Lori Kiefer
London UK

dark attic . . .
I trip over my past
in dusty boxes

Annie Wilson
Shropshire, UK

these walls
the secrets
they keep

Didimay D. Dimacali
California, USA

the empty room
a list of their white goods
on white paper

Dipankar Dasgupta
Kolkata, India

garden door
the blackbird eyeing me
from her kitchen

Ella Aboutboul
West Sussex, UK

grandma
in the doorframe
her fledglings nest

Alan Harvey
Tacoma, WA

library table
a display of banned books
ready for takeout

Sigrid Saradunn
Bar Harbor, Maine

through the raindrops
on window glass—
an eagle plays the wind

D'ellen Hutchens
Apple Valley, CA

light at the end of the hallway hospice wing

Lorraine A Padden
San Diego, CA USA

even in the smile
of the childhood doll
an inevitable goodbye

anche nel sorriso
della bambola d'infanzia
un inevitabile addio

Maria Cezza
Italy

hometown visit
the familiar flicker
of the kitchen light

Marion Clarke
Warrenpoint, Northern Ireland

theatre lights
counting down from ten
fade to black

Stephen J. DeGuire
Los Angeles, CA

granny's bedroom
her curled shadow resting
in the summer heat

Cristina Povero
Italy

her green bedroom
she writes poetry
in her forest

Diane Funston
Marysville, California

coming home
greeted by the old
familiar dish pattern

Debbie Scheving
Bremerton, WA USA

their tv's blue glow
lights empty bookshelves
I guess they e-read

Elizabeth Shack
Illinois, USA

doctor's office
my heart races to the sight
of the stethoscope

Jackie Chou
United States

wishing well
pennies becoming
turquoise with age

Margie Gustafson
Lombard, IL USA

"dancing in the kitchen"
our daily ritual
makes the headlines

Rita Melissano
Illinois, USA

brother's guest room . . .
asleep on my parents' bed
maze filled dreams

kris moon kondo
Kiyokawa, Kanagawa, Japan

bookshop window
a forgotten collection
from childhood

Richard Straw
Cary, North Carolina
Join us next week for Marietta's commentary on additional poems, & our next prompt…
Guest editor Marietta McGregor is a fourth-generation Tasmanian who has made her home between Australia's national capital Canberra and the scenic south coast of New South Wales for over four decades. A lover of the natural world since childhood, she went on to study botany and zoology, and has worked as palynologist, garden designer, science journalist, editor, university tutor, education manager, and grants developer for the national wildlife collection. A photography and travel enthusiast since retiring, she enjoys capturing fine detail of fleeting moments. She came late to haiku, which appealed for its close observation and poetic expression of ephemeral experience. Her haiku, haibun and haiga have been widely published, have won awards and appear in anthologies.
Lori Zajkowski is the Post Manager for Haiku Dialogue. A novice haiku poet, she lives in New York City.
Managing Editor Katherine Munro lives in Whitehorse, Yukon Territory, and publishes under the name kjmunro. She is Membership Secretary for Haiku Canada, and her debut poetry collection is contractions (Red Moon Press, 2019). Find her at: kjmunro1560.wordpress.com.
The Haiku Foundation reminds you that participation in our offerings assumes respectful and appropriate behavior from all parties. Please see our Code of Conduct policy.
Please note that all poems & images appearing in Haiku Dialogue may not be used elsewhere without express permission – copyright is retained by the creators. Please see our Copyright Policies.