HAIKU DIALOGUE – Finding peace and contemplation… in leisure time… playing board games
Finding peace and contemplation… in leisure time with Guest Editor Marietta McGregor
At times in our lives, fast-moving events of our day-to-day existence may become overwhelming. Between work and family responsibilities, daily needs and doomscrolling, days rush by in a breakneck blur and we sometimes end the week with a sense of 'where did that go?' We're surrounded by the wonders of our shared universe. Maybe it's time to become immersed in the enjoyment of one aspect of this spectacular world which amazes, delights and refreshes us. We can marvel at the night sky or clouds by day, cheer a ladybug as it climbs a twig and opens its wings, dangle our feet in a cool river, rest in a tree's benevolent shade, stroke velvety green moss, smell ozone freshness at the coast, crunch through frosty grass, listen to morning birdsong, taste a last autumn apple. Small pauses in quotidian life may be devoted to living slower, using every sense, and sharing our pleasure through poetry. Simple gifts.
Each week for the next few weeks there will be a photographic prompt on the theme of 'Finding peace and contemplation. . .' with images capturing moments when we might seek inspiration if the going gets tough. I look forward to reading your personal response to the moments you've discovered.
next week's theme: … making music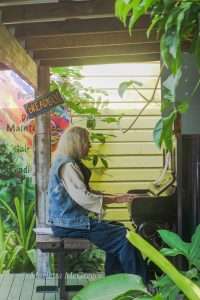 At a country market on the edge of the Queensland rainforest, jaunty music led me to a musician playing piano under a lean-to verandah surrounded by lush tropical vegetation. Music has been called the universal language. A recent Harvard University ethnographic study across a wide range of world cultures suggested that all music contains recognisable acoustic codes related to melody and rhythm. Across societies, the researchers observed music to be associated with child nurture, healing, dance and love. I look forward to your haiku this week about your experiences and enjoyment in making music.
The deadline is midnight Eastern Daylight Time, Saturday April 16, 2022.
Please use the Haiku Dialogue submission form below to enter one or two original unpublished haiku inspired by the week's theme, and then press Submit to send your entry. (The Submit button will not be available until the Name, Email, and Place of Residence fields are filled in.) With your poem, please include any special formatting requirements & your name & residence as you would like it to appear in the column. A few haiku will be selected for commentary each week. Please note that by submitting, you agree that your work may appear in the column – neither acknowledgment nor acceptance emails will be sent. All communication about the poems that are posted in the column will be added as blog comments.
below is Marietta's commentary for playing board games: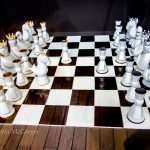 Thank you for the lively haiku and senryu this week about games enjoyed in all sorts of situations and places. The universal appeal of board games is obvious and so is their symbolism. The win/lose dichotomy of snakes and ladders even finds its way into our daily lives. Your games may be played with extended family, grandma and grandpa happily embracing a second childhood. Your games are solitary and quiet, or rowdy. They're often highly competitive! There's an element of making do, as well – when a piece is lost, a fruit stone is pressed into service, just as the ancient Egyptians may have collected round stones to play on etched boards in an earlier millennium.
selling Dad
on a forgery
Mona Lisa smirk

(Masterpiece, 1970)

Mariel Herbert
California, USA
One useful attribute in games of bluff is a poker face. The poet here uses this skill to bamboozle another player into believing false is true. I haven't played Masterpiece, but I can imagine a good eye for art is necessary, along with a well-honed scepticism about opponents' wild claims. L3 is the punchline (if I can be permitted to use that word about a senryu). The metaphoric description is immediately recognizable – the unreadable expression of that face we know so well. Art describing art, indeed.
first date
at a café with board games
all the right moves

Baisali Chatterjee Dutt
Kolkata, India
A clever senryu which illuminates a familiar life moment. What a great idea to have a first date in a venue with a ready-made icebreaker! But what are the right moves here, I wonder? Is it better to love and lose, or win a contest with a new date? It's fun to imagine several different scenarios, depending on how competitive the players are and the impression they want to make. What if each player decides to lose gracefully? Stalemate? Maybe for both their sakes we should hope the game is a sideline to engaged conversation, not the main focus.
jigsaw puzzle
on a shaky card table
cat's new bed

Richard Straw
Cary, North Carolina
Cats are notorious for seeking out whatever their owner is doing, and plonking themselves down smack in the middle, whether it's reading the newspaper, knitting, or writing haiku on the computer. There's a feline compulsion not to be left out, especially if the owner seems deeply preoccupied as is often the case with a jigsaw. It's conjectured that cats possess their human by asserting ownership of areas where they work and play. Rickety bed or not, the poet's cat is certain to leave a mark on this household. To smooth the reading of L3 an article could be added ('the cat'). William Higginson provides a clear explanation of how to avoid what has been called 'telegraphese' in his essay, "A Sense of the Language", in this useful collection, A Silver Tapestry, available from The Haiku Foundation's Digital Library.
final score—
I win another
night on the couch

Chad Lee Robinson
United States
How many family games have an unexpected ending, like this senryu? The first two lines may be read as triumphantly upbeat, but the enjambment in L2 and L3 delivers a cliffhanger conclusion. We give a wry laugh when the expected victory turns out to be not at all what it seems. But, having read and taken in L3, if we go back to L1 we may wonder, is the senryu merely about cumulative wins in games of chance or skill, or about some deeper, more serious conflict?
& here are the rest of the selections:
losing scrabble
with a four-letter word
deep winter

Sarah Metzler
United States

his move
eons of silence
my move

Teji Sethi
India

my sister and I
still playing
War

Alex Lubman
Morgantown, WV USA

crossword puzzle
feeling almost young again
almost

Stephen A. Peters
Bellingham, WA

Trivial Pursuit
the team that always takes it
too seriously

Marion Clarke
Warrenpoint, Northern Ireland

missing grandpa
the dusty chessmen
frozen in their moves

Anitha Varma
Kerala, India

postal chess
opponent's wife informed
he passed

(This is a true experience that made me give up correspondence chess.)

martin gottlieb cohen
Egg Harbor, NJ U.S.

chess pieces—
my family defends me
on all sides

Aljoša Vuković
Croatia, Šibenik

playing chess . . .
contemplating her next move
my tabby

Nisha Raviprasad
India

solitaire—
the Queen of hearts
stuck again

Milan Rajkumar
Imphal, India

playing spyder . . .
a wrapped bud
in the cobweb

Angiola Inglese
Italia

tables of cards
and crazy old ladies
bingo night

Kathleen Trocmet
Texas, USA

Scrabble game
the zen of making do
with the word Zen

Jackie Chou
United States

the ace of spades
sliding over the baize
an empty house

john hawkhead
UK

snow day
our eight-year-old wins
the game of life

P. H. Fischer
Vancouver, Canada

between moves
rubbing his chin three times
just like grandpa

Roberta Beach Jacobson
Indianola, Iowa, USA

backgammon
we hold our breath
before each roll of the dice

Olivier Schopfer
Geneva, Switzerland

power cut . . .
candlelit shadows round
the cluedo board

Robert Kingston
Chelmsford, UK

tombola . . .
the soft caresses
of my grandma

tombola . . .
le morbide carezze
di mia nonna

Daniela Misso
Italia

endgame
where there are no losers . . .
falling in love

Alfred Booth
Colombes, France

first day of spring
on the giant chess in the park
a squall ends the game

Tsanka Shishkova
Bulgaria

monopoly
all the money in the world
buying happiness

Connie Pittman Ramsey
Irving, TX United States

son asks:
can you go up a snake
and come down a ladder?

Neera Kashyap
India

she laughs
rolling the dice
'Go to Jail'

Tuyet Van Do
Australia

scrabble . . .
I announce
my pregnancy

Aparna Pathak
India

i wonder
do they play chess . . .
or meditate?

Nani Mariani
Australia

lockdown again
mother and girl play
cat's cradle

John Zheng
Mississippi

on the board
on a rainy day
my dream run

Ravi Kiran
India

chinese checkers
walking paths through
forests of colours

Subir Ningthouja
Imphal, India

incantations
of belief . . .
a pair of sixes

Keith Evetts
Thames Ditton UK

mirage—
playing computer chess
against a ghost

Teiichi Suzuki
Japan

after all these years
still waiting to be the first
to throw a six . . .

Amanda White
Morvah, Cornwall, UK

cowrie shells clink
in the old pallankuzhi—
grandma giggles

(Pallankuzhi is a traditional mancala game of South India played by the children and older folks of the household which consists of a wooden board with pits and with cowrie shells or seeds as counters.)

Vidya S Venkatramani
Chennai, India

taught
one more indoor game
second lock down

Chittaluri Satyanarayana
Hyderabad, India

scrabble evenings—
the generation gap
dissolves

Priti Aisola
India

winter evening—
shadows lengthen over
the chessboard

Nicole Pottier
France

triple score
finding the words
that fit

Susan Bonk Plumridge
London, Canada

doing it old school
my pencil
sinks his battleship

Tracy Davidson
Warwickshire, UK

on the porch swing
with pen and paper
evening buzz

Randall Herman
Victoria, Texas

zen
on a triple word
my scrabble satori

Nick T
UK

snakes and ladders
in tune with
my career graph

Shobhana Kumar
India

Boggle
that time my grandson
let me win

Pat Davis
Pembroke NH USA

double nines
so many spots
so few elephants

simonj
UK

Patience—
each card turn shifts
the clock

Dorothy Burrows
United Kingdom

hearts
grandma and I play
together for hours

Kristen Lindquist
Maine, USA

scrabble it's your word against mine

Adrian Bouter
The Netherlands

flat busted . . .
not even a house
on Baltic Avenue

(Baltic Avenue – cheapest property on the Monopoly board)

Mark Meyer
Mercer Island WA USA

dad always hid
a piece of the ocean
family jigsaw

Bruce Feingold
Berkeley, CA USA

snakes and ladders
I start hunting
for a job again

Minal Sarosh
Ahmedabad, India

weekend quorum
the hypnotic sound
of mahjong tiles

Bona M. Santos
Los Angeles, CA

long day . . .
butting heads
over a chessboard

Firdaus Parvez
India

playing freedom
on a triple word score
lockdown Scrabble

Louise Hopewell
Australia

circa 1980s
my son and I play
'guess who'

Margaret Mahony
Australia

on vacation
if boredom sets in
the board games come out

Carol Reynolds
Australia

King Arthur
on the SQUARE table
with two knights

传奇亚瑟王
巍然屹立方桌上
骑士护两旁

chuan qi ya se wang
wei ran yi li fang zhuo shang
qi shi hu liang pang

Xiaoou Chen
Kunming, China

pontoon . . .
Dad in his element
scoops up our matchsticks

Ingrid Baluchi
North Macedonia

Monopoly
with cold turkey sandwiches
Thanksgiving Sunday

Greer Woodward
Waimea, HI

returning
to a simple life
dominoes

Lori Kiefer
London UK

poker
mother always
sees through me

Vandana Parashar
India

son to grandson
the chessmen travel
three generations

Neena Singh
Chandigarh, India

sitting opposite
a bronze chess player—
his move

Lev Hart
Calgary, Canada

zugzwang
should I blink
or let you?

Surashree Joshi
Pune, India

always a stickler . . .
her precise rules
for cheating at solitaire

Laurie Greer
Washington, DC

hide and seek
we discover the unseen
parts of us

Mona Bedi
Delhi, India

snowed in
the black and white
of backgammon

Bryan Rickert
Belleville, Illinois USA

"Sleeping Queens"
shuffling our Saturday night chance
of parental slumber

Sandra St-Laurent
Yukon, Canada

game night—
he monopolizes
the conversation

Sari Grandstaff
Saugerties, NY, USA

Dracula ant
she springs ahead
in the game of Speed

Richard Matta
San Diego, California

watching the birds
play a complicated game
winner gets the twig

Rehn Kovacic
Mesa, AZ

golden anniversary
kids at heart playing
truth or dare

Peg Cherrin-Myers
Franklin, Michigan

scrabble . . .
my iPad still
unbeaten

Madhuri Pillai
Australia

mancala board—
filling the pit holes
with tea lights

Adele Evershed
Wilton, Connecticut

Checkmate
beneath the cherry blossom;
Parc du Luxembourg

Vivienne Tregenza
Penzance

gone rogue
inventing new words
for Scrabble

Cynthia Anderson
Yucca Valley, California

one step at a time . . .
the buddhist path
of the chess pawn

Marianne Sahlin
Sweden

Community Chest:
beauty contest second prize—
I feel less ugly

Jenny Shepherd
London

the bid
is two hearts—
dating game

Valentina Ranaldi-Adams
Fairlawn, Ohio USA

tic-tac-toe
on a napkin
calming his storm

Susan Farner
USA

out of moves
my doctor lays out
our game plan

Didimay D. Dimacali
USA

outdoor chess
the next move waiting
for spring thaw

Maurice Nevile
Australia

weeping willow
the silence
of father's chessmen

Arvinder Kaur
Chandigarh, India

bingo cage
the clatter
of tiny moons

Barrie Levine
Massachusetts USA

war
the king moves
one step at a time

Srinivasa Rao Sambangi
Hyderabad, India

fitting the pieces of my world together jigsaw

Peggy Hale Bilbro
Alabama

democracy
queen and pawns
housed in one chess box

Anjali Warhadpande
Pune, India

bad mitten
misspelling a game
I never could play

Peter Jastermsky
Morongo Valley, California

we exchange queens
each sunset a bit
longer

John S Green
Bellingham, WA

game of silence . . .
finally the children
are quiet

Rosa Maria Di Salvatore
Catania, Italy

old buddies—
white beats black
in five moves

Daniela Lăcrămioara Capotă
Romania

summer solitaire
replacing a marble
with a cherry stone

C.X. Turner
United Kingdom

all the flowers
of spring
hanafuda

James Gaskin
Fukushima, Japan

deserted,
rain-soaked battlefield—
park chessboard

Dan Campbell
Virginia

13 Down
another year of solving
together

Maxianne Berger
Outremont, Quebec

summertime
under the willow
friendly game of war

Gloria Whitney
Findley Lake, NY USA

distant winter—
that bingo with friends
near the fireplace

lontano inverno—
quella tombola con gli amici
vicino al camino

Maria Teresa Piras
Sardinia, Italy

tavolo verde . . .
piccole tessere colorate
del magiò

green table . . .
small colored tiles
of the magiò

(In Italy the Mah-Jong game is called magiố)

Giuliana Ravaglia
Bologna, Italia

connecting
the pieces and memories
family game night

Melanie Vance
USA

wilderness lodge—
a tiger's roar joins in
our charades

Sushama Kapur
Pune, India

Monopoly
even a moth
lands in jail

Florin C. Ciobica
Romania

flipping
real estate—
game over

Lafcadio Orlovsky
USA

screened porch
beating my brother
at the game he taught me

Tim Cremin
United States

roll-to-check
trading grains
to build my road

Mona Iordan
Romania

leather armchair
a soft patina
on grandfather's playing cards

Ash Lippert
South Carolina, USA

solitaire
the shuffle echoes
of Mom's cards

Ann K. Schwader
Westminster, CO

shōgi title match
sensu unfolds
crest of fuji

Keiko Izawa
Japan

piecing together
our rainy-day plans
jigsaw puzzle

Sharon Martina
Warrenville, Illinois

snakes and ladders—
my kid rekindling
the kid in me

Joe Sebastian
Bangalore, India

utility bills due
I buy more hotels
for Park Place

Deborah P Kolodji
Temple City, California

solitaire
the zen of
shuffling cards

Nancy Brady
Huron, Ohio, USA

autumn leaves
the rhythmic rustle
of monopoly money

Jonathan Roman
Yonkers, New York

childhood monopoly
I'm still the banker
who gives it all away

Kath Abela Wilson
Pasadena, California, USA
Guest editor Marietta McGregor is a fourth-generation Tasmanian who has made her home between Australia's national capital Canberra and the scenic south coast of New South Wales for over four decades. A lover of the natural world since childhood, she went on to study botany and zoology, and has worked as palynologist, garden designer, science journalist, editor, university tutor, education manager, and grants developer for the national wildlife collection. A photography and travel enthusiast since retiring, she enjoys capturing fine detail of fleeting moments. She came late to haiku, which appealed for its close observation and poetic expression of ephemeral experience. Her haiku, haibun and haiga have been widely published, have won awards and appear in anthologies.
Lori Zajkowski is the Post Manager for Haiku Dialogue. A novice haiku poet, she lives in New York City.
Managing Editor Katherine Munro lives in Whitehorse, Yukon Territory, and publishes under the name kjmunro. She is Membership Secretary for Haiku Canada, and her debut poetry collection is contractions (Red Moon Press, 2019). Find her at: kjmunro1560.wordpress.com.
The Haiku Foundation reminds you that participation in our offerings assumes respectful and appropriate behavior from all parties. Please see our Code of Conduct policy.
Please note that all poems & images appearing in Haiku Dialogue may not be used elsewhere without express permission – copyright is retained by the creators. Please see our Copyright Policies.