HAIKU DIALOGUE – Finding Peace and Contemplation… in leisure time… making art & Introduction to The Language of Flowers
Finding Peace and Contemplation… in leisure time… with Guest Editor Marietta McGregor & Introduction to The Language of Flowers
Thank you Guest Editor Marietta McGregor for two months of inspiring photography & poetry, & now welcome back accomplished poet & photographer Carole MacRury, who returns to share her photos with us for the next few weeks… happy writing!
PLEASE NOTE: In an attempt to make things easier for our Guest Editors, we are now asking all poets to please include both their name & residence as they would like it to appear in the column in the 'Poem' box with the poems… thanks, kj
Introduction to The Language of Flowers with Guest Editor Carole MacRury
The Language of Flowers: A Global Perspective
Floriography, the sending of secret messages via coded flower arrangements, was popular during the Victorian Era (between 1837 and 1901). Hanakotoba is the Japanese form of the Language of Flowers. Countries around the globe have their own language, myths, meanings, history and symbolism pertaining to flowers, some going back thousands of years. While the sending of secret messages through flowers might not be as popular today as it was in the Victoria age, we still use flowers to express significant moments in our lives, such as births, deaths, weddings, religious services, holidays and specific cultural and personal ceremonies.
We grow gardens, arrange flowers, and pick wildflowers to brighten our homes. The scent of flowers can lift our spirits or cause an allergic reaction. We communicate through the color of flowers. White, for instance, can represent purity, innocence, or death depending on one's culture. Flowers throughout history have been used for their mind-altering effects. The poppy for instance evokes remembrance of those fallen in war, but also represents their medicinal ability to ease pain and our passage out of this world, or cause addiction. Flowers flavor and spice our food, or help heal our ailments through herbal remedies. Many countries around the globe have a national flower. Our hearts are lifted or broken through flowers, either cultured or wild. We are inspired by flowers through art, music and literature, whether exploring the sensuality of Georgia O'Keefe's blossoms, or taking a trip down memory lane listening to Pete Seeger's ageless melody, "Where Have All the Flowers Gone," a song as relevant today as yesterday. Sadi, an ancient Sufi poet says, "buy hyacinths to feed thy soul."
My photos are meant to inspire you to dig deep into your own relationship with flowers within the framework of your own specific cultures through each weekly sub-theme. My preference has always been to look closely into flowers in all stages of their lives: bud, blossom, fading. I find that looking into the heart of a flower one often finds oneself.
Banner Art courtesy of Sondra J. Byrnes Haiku Poet and Ikebana Artist
next week's theme:  Flowers as National Symbols
This is a good place to start as we are currently witnessing the power of the sunflower to evoke solidarity and empathy for Ukraine. November is the month of Remembrance Day in the US which is symbolized by the poppy. Many countries have national flowers, and some larger countries have state and provincial flowers within their borders. Some national flowers have cultural or religious roots that go back hundreds or even thousands of years. The US national flower is the rose, a symbol of love and beauty, but also of war and politics. What is your national, provincial or state flower? How do you associate it with your life?
Here is an excellent example of association to a flower written by the late Johnny Baranski.
chrysanthemum garden
in this world too
bomb makers

Johnny Baranski
(Permission granted by Amy Baranski, Literary Executor)
It's as meaningful today as it was when first written. There are layers of meaning to be found in his chosen flower, from fireworks to famous Japanese haiku. One feels the past and present converge in this haiku. If you don't wish to choose your national flower, choose another that symbolizes something of significance to you. Or, if you prefer, write a haiku inspired by the flower I've chosen, the poppy, in remembrance of all fallen soldiers. Did you know Belgium, Bhutan and Poland all have a type of poppy as their national flower? Here is a list of national flowers around the globe from Gardenerdy.
The deadline is midnight Pacific Daylight Time, Saturday May 7, 2022.
Please use the Haiku Dialogue submission form below to enter one or two original unpublished haiku inspired by the week's theme, and then press Submit to send your entry. (The Submit button will not be available until the Name, Email, and Place of Residence fields are filled in.) With your poem, please include any special formatting requirements & your name & residence as you would like it to appear in the column. A few haiku will be selected for commentary each week. Please note that by submitting, you agree that your work may appear in the column – neither acknowledgment nor acceptance emails will be sent. All communication about the poems that are posted in the column will be added as blog comments.
below is Marietta's commentary for making art: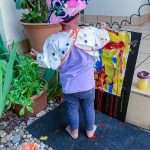 From this week's collection of evocative haiku I could visualize the results of your creativity. Soothing sumi-e brushstrokes, watercolor, chalk drawing, quilting, potting, knitting, building sandcastles – many ways to seek peace in making things. Painting or drawing with children and observing their fresh takes on creativity was a popular topic. I relate to this – my granddaughter (who appears in the prompt image) is a joy to watch as she discovers what she can do on paper or with an art app. This is my last week of guest editing for a while. I've greatly enjoyed the opportunity to be part of a wonderful community of haiku poets who generously share work each week and comment on favorite poems of others. Thanks for your support and kind messages. Thank you to Kathy and Lori for all your work, and thanks also to The Haiku Foundation.
flower moon—
a shadow picture of a hare
on the shoji

Teiichi Suzuki
Japan
We may be looking at the familiar bedtime shadow play of children, where knuckles become noses and fingers transform into floppy ears. Another reading stems from the season word or kigo in Line 1. May marks the fifth full moon of the year, known in northern hemisphere countries as the Flower Moon. The Algonquin people of Ontario watched as spring brought its bounteous blooming to their lands and named the May full moon accordingly. It's also known as Corn Planting Moon, Milk Moon, or Hare Moon. While some cultures imagine the face of a man in the moon's surface features, East Asian folklore has it that the shapes form a hare with a mortar and pestle. Maybe the haiku hints that a moon hare is casting its shadow on the paper screen.
doodling the freedom to see what happens

Cynthia Anderson
Yucca Valley, California
One way we let off steam in awkward or boring situations is to doodle. Some think doodling can be an outlet for negative feelings, relieve stress and boost fact retention. There have been numerous studies on how it also may reveal personality quirks. Paul Klee famously said a drawing is simply a line going for a walk. Allowing a pencil to meander across the page wherever it wishes frees up the mind and engages the right or intuitive side of the brain. Depending on where one pauses in reading it, this monoku's meaning may be interpreted differently – 'doodling the freedom / to see what happens', 'doodling / the freedom to see what happens', or even the more questioning 'doodling the freedom to see / what happens'. I think the poet has taken some words for a walk towards an untethered state of mind.
holi noon . . .
her children's handprints
on the widow's saree

(Holi is the festival of colours celebrated all over India. Commonly and traditionally, widows have worn white coloured clothes and were forbidden from playing holi.)

Surashree Joshi
Pune, India
This verbless haiku gives us a poignant picture in a few words. The cultural kigo, 'holi noon', describes a time during a beloved Hindu spring festival when most people are engaged in joyful celebrations, song and dance. Children play with water balloons and adults splash water and smear each other with colorful pigment powders. While her children can join in the fun, by tradition a widow does not. Nevertheless, her children try to include their mother in their own way.
canvas . . .
i will not be
gentle with you

Tiffany Shaw-Diaz
United States
Here we're taken on an edgy flight to somewhere intimate. The poet could be mentally addressing an inanimate object, a blank canvas, and telegraphing an intention to paint it with the most emotive or cathartic of images. However, the senryu's enigmatic juxtaposition does not have to be read literally. Another interpretation could be that the poet is conflating the idea of an unmarked canvas with that of a new relationship, thereby indicating an intention to be honest at all costs.
painted lake
where the heron was
nothing, but more so

Alan Peat
Biddulph, United Kingdom
Sometimes the absence of something is felt more keenly than its presence, as is the case in this haiku. I imagine a familiar landscape is depicted, one where the viewer is accustomed to watching the steady progress of a bird fishing in a favorite spot. A white heron would be very visible. The observer's eye is drawn to what they expect to see but nothing is there, leading to a feeling of loss. Perhaps it was an actual loss. Has the heron for some reason disappeared from its usual haunts in the lake shallows? If so, the painting feels even emptier with this reminder of what used to be.
sunrise . . .
I long to paint
the oriole's song

Annie Wilson
Shropshire, United Kingdom
It's easy to picture a bird's trills in technicolor, especially during the dawn chorus when a myriad songsters tune up while the full range of the spectrum develops with the morning sun. I think an Australian magpie's rich warbles would be dark purple, a reed warbler's song pale yellow, and a crimson chat's piping possibly the blue-grey of spinifex grass. I enjoyed thinking about this wishful poem.
& here are the rest of the selections:
splashing colours
the child sees what
she wants to see

Srinivas S
India

street art
laid out under rags
a still life

John Hawkhead
UK

Camellias in spring—
I pencil in the soft petals
of a new season

Vivienne Tregenza
Penzance

photographs
his more accomplished
than mine

Deborah Karl-Brandt
Bonn, Germany

a three year old's
fantasy unwinds
multicoloured

Marilyn Ward
UK

first art class
dad's sweatshirt
her smock

Robert Kingston
Chelmsford, United Kingdom

childhood painting
remembering when
it was easier to smile

Stephen A. Peters
Bellingham, WA

found
in the art corner
missing child

Seretta Martin
San Diego, CA, USA

seeking shelter
I paint a small birdhouse
pink and green

Jackie Chou
United States

my first drawing
on the bark of a pumpkin
the cow ate

Ljiljana Dobra
Croatia

self-healing
I paint my face
with seven colours

Hifsa Ashraf
Rawalpindi, Pakistan

sap green leeks
the watercolor tube
almost empty

Elena Malec
Irvine, California

house shifting
our toddler's masterpiece
stays on the wall

Ravi Kiran
India

wet door screen
child's sketch of the sea
revised by the wind

Richard Straw
Cary, North Carolina

diner crayons
mom says
color in the lines

Tina Mowrey
Austin, TX

my lesson
in shape-shifting
suminagashi

Pat Davis
NH USA

beyond the wall
the vastness of the sea—
child's drawing

oltre il muro
la vastità del mare—
disegno di bimbo

Dennys Cambarau
Sardinia, Italy

white buds
in a school backpack
colorful pencils

Dejan Ivanovic
Lazarevac, Serbia

sgraffito
scratching out
my self portrait

Mark Meyer
Mercer Island WA USA

freestyle artists
using hands
instead of brushes

seniman gaya bebas
memakai tangan
bukannya kuas

Christopher Calvin
Kota Mojokerto, Indonesia

crayon streaks
she says the clouds
came to her paper

Neera Kashyap
India

child painting
his own world
his own colors

Chittaluri Satyanarayana
Hyderabad, India

laburnum blossoms
after long years
brighten my easel

Neena Singh
Chandigarh, India

sculpting a song trapped in dunes desert winds

Teji Sethi
India

self portrait
finding
the other me

Amanda White
Morvah, Cornwall, UK

Tate Modern
a third look
at the light switch

Keith Evetts
Thames Ditton UK

pigment in water
the sun rises twice
over the ocean

Sharon Sheppard
Magnolia, DE

one crayon
left behind—
blue sunset

Roberta Beary
Mayo, Ireland

pointillism—
my granddaughter's
new masterpiece

Nicole Pottier
France

new crayons
we add a rainbow
to the sky

Karen Harvey
Pwllheli, North Wales

no boyfriend
i over-grind
the litho stone

(A 'litho stone' is a thick slab of limestone that is used as the printing surface for a lithographic print. Litho stones are thick, heavy, and rather expensive, so the same stone is often reused to produce new prints. In this case, the first raised image is ground down to a flat blank surface that can be re-etched with a new image.)

Sarah Metzler
United States

from still life to life drawing
this class
full of bananas

Tracy Davidson
Warwickshire, UK

sculpting . . .
her inner demons
clayed

Samo Kreutz
Ljubljana, Slovenia

still life
eating the fruit
already drawn

Rehn Kovacic
Mesa, AZ

cross stitching the stars autumn light

Lakshmi Iyer
India

calm sea—
hyperrealism drawing
for beginners

Aljoša Vuković
Croatia, Šibenik

child's drawing
her parents
still together

Bryan Rickert
Belleville, Illinois USA

colored shapes
scattering the page
her art a lifetime ago

Tuyet Van Do
Australia

wet-on-wet—
the wisteria turns
into a cloud

bagnato su bagnato—
il glicine si trasforma
in una nuvola

Daniela Misso
Italia

art palette all the colors of heartache

Susan Burch
Hagerstown, MD

drawing mandalas—
all the words
unspoken between us

Daniela Lăcrămioara Capotă
Romania

chalk filled rainbows
her love letter
left on the pavement

Kathleen Mazurowski
Chicago, IL

little hands wet
with green paint
he becomes the wall

Vicki Vogt
Watertown, MA United States

noticing the scene
in the landscape . . . where is
my cell phone

Tomislav Maretić
Croatia

art walk
her back begins to ache
at the abstracts

John S Green
Bellingham, WA

throwing pottery—
a dabbler duck
leaving wakes

Richard Matta
San Diego, California

ripping magazines
for making my bright collage
how random is life

Lorraine Schein
Queens, NYC

spring hill—
painting the birdsong
on my heart

Keiko Izawa
Japan

every piece
with its precious story
patchwork quilt

Mirela Brăilean
Romania

drawing app
i become a child
again and again

Minal Sarosh
Ahmedabad, India

mosaic art—
I begin with the eyes
of a wildcat

Sushama Kapur
Pune, India

blank canvas . . .
I finally decide
on a snowscape

Marion Clarke
Warrenpoint, Northern Ireland

thin graffiti
on a pebble
star map

Luciana Moretto
Treviso, Italy

sand castle
the boy reigns as king
till flood tide

建起沙城堡
男孩从此当国王
直到涨潮时

jian qi sha cheng bao
nan hai cong ci dang guo wang
zhi dao zhang chao shi

Xiaoou Chen
Kunming, China

first verses
written on sand
wave after wave

Minko Tanev
Bulgaria

coloured markers . . .
making haiku postcards
to mail

Susan Bonk Plumridge
London, Canada

a butterfly
drawn on a sheet of paper . . .
spring is coming

Rosa Maria Di Salvatore
Catania, Italy

hopper feeder
turning doodles of birds
into full-fledged portraits

Laurie Greer
Washington, DC

the art
of geometry
quilting

Susan Farner
USA

my pictures
making his house
our home

Vandana Parashar
India

origami leaves
a batch of crinkled brown
for gran

Arvinder Kaur
Chandigarh, India

pen and ink—
the spring breeze rippling
the water mirror

Dan Iulian
România

painting
the act of
painting

Pippa Phillips
Kansas City, MO

painting daffodils
all my yellow crayons
find a flower

Lori Kiefer
London, UK

empty skies
the full moon in her
drawing note

Padmini Krishnan
United Arab Emirates

pressing pup's paw
on an inkpad, then a card
my handmade art

Claire Vogel Camargo
USA

art class
more talk
than art

Peggy Hale Bilbro
Alabama

spring wind
my paper crane
flew away

Tsanka Shishkova
Bulgaria

abstraction—
I color
outside my lines

Adele Evershed
Wilton, Connecticut

spring drizzle
all over the landscape
—painting outside

Marianne Sahlin
Sweden

rainy day
we fashion dancing figures
out of candy wrappers

Bona M. Santos
Los Angeles, CA

cloudburst
the pavement art
abstracts

Ann K. Schwader
Westminster, CO

footpath gallery
the smudged outlines
of tiny hands

Louise Hopewell
Australia

plein air
the universe
in her thumbprint

Lorraine A Padden
San Diego, CA USA

picking up
last year's knitting
dropped friends

Mariel Herbert
California, USA

charcuterie board
and hand made paper
with watercolors

Ronald Degler
Harbor City, CA

unwinding . . .
making each fondant
heart shaped

Nisha Raviprasad
India

family mourning—
my father gives life
to another canvas

Elisa Allo
Zug, Switzerland

finger painting . . .
more rainbows on the wall
than the paper

Baisali Chatterjee Dutt
Kolkata, India

inner crayons
I colour
a grey day

Sanjuktaa Asopa
India

soft fat brush
one touch on washi paper . . .
a vase is born

kris kondo
Kiyokawa, Kanagawa, Japan

still out there
painting by torch
lighthouse moon

Tim Cremin
Massachusetts

grandma's palette
my grief never leaves
the canvas

James Gaskin
Fukushima, Japan

painting a crane
I breath freedom . . .
sumie class

Al pintar una grulla
respiro la libertad . . .
Clase de sumie

Julia Guzmán
Córdoba Argentina

clay sculpting
my fingers the
figurine's muse

Joe Sebastian
Bangalore, India

first trimester
knitting pink clouds
into a blue sky

Anju Kishore
Chennai, India

sulla mia tela
i colori del vento . . .
ombre cinesi

on my canvas
the colors of the wind . . .
chinese shadows

Giuliana Ravaglia
Bologna, Italia

the boulevard tree's
understory
sidewalk chalk

Caroline Giles Banks
Minneapolis, Minnesota, USA

summer painting
we borrow shade
from the apple tree

C.X. Turner
United Kingdom

pottery class
I etch your name
on the clay pot

Mona Bedi
Delhi, India

artwork—
my mother converses
using emojis

Priti Khullar
India

my castle swept away by the tide

Dan Campbell
Virginia

showing off my art
in mid-night dark ink
his spider tattoo

Melanie Vance
USA

bedroom window
my pencil shapes
the oak's silence

Madhuri Pillai
Australia

portrait . . .
even the dog
gets polka dots

P. H. Fischer
Vancouver, Canada

selecting beads
to string my necklace
Chiyo-Ni's red lacquer

Barrie Levine
Massachusetts USA

giant shell . . .
my view of the world
through my granny's smile

Ivan Gaćina
Croatia

taken by the hand
to my dream garden . . .
painting by numbers

Margaret Tau
New Bern, North Carolina

life drawing
a butterfly attracted
by her rose tattoo

Florin C. Ciobica
Romania

war zone
my daughter draws
only pigeons

Cristina-Valeria Apetrei
Romania

kindergarten class
again she draws
her only dolly

Valentina Ranaldi-Adams
Fairlawn, Ohio USA

fantasy bird
I learn to draw
from my little daughter

Kath Abela Wilson
USA

watercolor
in her last months
she gives us flowers

Maurice Nevile
Canberra, Australia

the world fades away . . .
my sumi-e orchid
takes form

Cristina Povero
Italy

rag doll
the little dress
never worn

Mona Iordan
Romania

midnight snack—
my child's stick figure drawing
on the fridge

Sari Grandstaff
Saugerties, NY

golden hour
that yearning to capture
the light

Sharon Martina
Illinois, USA

rearranging paper
into a collage
—feng shui

Nancy Brady
Huron, Ohio

charcoal sketches
of strangers in the park
mid day shadows

ron scully
Burien WA

first warm day
children fighting over
yellow stubs of chalk

M. R. Defibaugh
United States

reincarnation
I use the purple iris
to draw an iris

Susan Rogers
Los Angeles

collage—
gathering best memories
in bits and pieces

Lorelyn De la Cruz Arevalo
Bombon, Philippines
Guest editor Marietta McGregor is a fourth-generation Tasmanian who has made her home between Australia's national capital Canberra and the scenic south coast of New South Wales for over four decades. A lover of the natural world since childhood, she went on to study botany and zoology, and has worked as palynologist, garden designer, science journalist, editor, university tutor, education manager, and grants developer for the national wildlife collection. A photography and travel enthusiast since retiring, she enjoys capturing fine detail of fleeting moments. She came late to haiku, which appealed for its close observation and poetic expression of ephemeral experience. Her haiku, haibun and haiga have been widely published, have won awards and appear in anthologies.
Lori Zajkowski is the Post Manager for Haiku Dialogue. A novice haiku poet, she lives in New York City.
Managing Editor Katherine Munro lives in Whitehorse, Yukon Territory, and publishes under the name kjmunro. She is Membership Secretary for Haiku Canada, and her debut poetry collection is contractions (Red Moon Press, 2019). Find her at: kjmunro1560.wordpress.com.
The Haiku Foundation reminds you that participation in our offerings assumes respectful and appropriate behavior from all parties. Please see our Code of Conduct policy.
Please note that all poems & images appearing in Haiku Dialogue may not be used elsewhere without express permission – copyright is retained by the creators. Please see our Copyright Policies.