HAIKU DIALOGUE – A Good Wander: The Art of Pilgrimage – Purpose

A Good Wander: The Art of Pilgrimage with Guest Editor P. H. Fischer
"Every day is a journey, and the journey itself is home." – Basho (translated by Sam Hamill, The Essential Bashō, Shambhala, 1999)
Ready to lose yourself in the wonder of wandering? If so, grab your rucksack, water bottle (filled with a bit of sake perhaps), a pair of good trail shoes, a sturdy walking stick, and, of course, your favourite notebook and pen.
Over these next two months, I'll share brief reflections and photo prompts from my Camino pilgrimage. This 900 km trek, from France across the Iberian Peninsula to Santiago de Compostela and beyond to the Atlantic Ocean, reignited a passion in me for haiku. I committed to composing at least one poem per day as a practice of being present to the moments unfolding along the way.
I'm not the first to scribble haiku while sojourning through villages, cities, mountains, plains, and sacred sites. Beginning with Basho (his Narrow Road to a Far Province remains the classic haiku travelogue), many poets including Santoka, Ryokan, and Kerouac, have taken to the open road to wander lonely as clouds, sing songs of nature (and themselves), and return to inspire others to join in on the chorus.
I invite you, likewise, to heed the poet's instinct to get outside to go within; to ramble with intent, to write, and to return from your journey renewed, perhaps even transformed. You don't need to go to Santiago, Jerusalem, Stonehenge, Graceland, Burning Man, or Matsuyama to accomplish this. Even a walk to the corner store can be a pilgrimage if experienced with our haiku senses attuned. Through the wonders of technology, we can journey from the comforts of our home if a physical jaunt is not possible. And I'd be remiss if I didn't mention that perhaps the most fascinating journey – navigating our interior landscape – can happen while sitting quietly on our meditation cushion.
It may be true, as J.R.R. Tolkien attested that "not all who wander are lost," but let's have fun trying. Isn't that the goal of both pilgrimage and art – to lose oneself utterly in the present moment? To experience the ineffable/transcendent/divine (pick your term), and at least try to transmute our experience through a creative medium like haiku?
Alright, enough talk! Let's get out wandering and writing. I look forward to reading your poems about real, imagined, imminent, interrupted, or eventual journeys. May the wind be always at your back!
next week's theme: Completion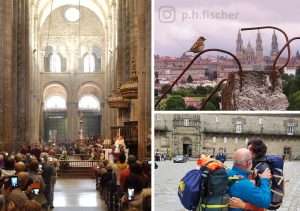 On the twenty-eighth day of my pilgrimage, as I climbed the last ascent of the Camino – Monte do Gozo (yes, wearing trail shoes) – I felt a joy bubbling within and, with it, a knowledge of the heart that couldn't rise to the tongue. What words could convey the ineffable peace, calm, and serenity of that moment?
Where statements fall short, music, art, poetry, may inch closer. I took out my smartphone. For the first time on the walk, I pressed play on the music app and listened to "Hallelujah" by Leonard Cohen sung by K.D. Lang. Beautiful. Playing the song a dozen times, I crested over the mount and saw Santiago de Compostela reveal itself to me, less like a prize and more like a sigh.
What followed – Santiago de Compostela, the Cathedral, the swinging of the Botafumeiro (the huge incense thurible) during the Pilgrim's Mass, the crashing of the Atlantic swells against the edge of the continent – was not an end but a commencement. This pilgrimage will forever remain a touchstone for me. A place to return to whenever I need to recall what is possible in life.
Arriving at a desired destination brings such a mix of emotions, doesn't it? What were the last steps of your favourite journey like? Were you relieved? Was the joy of accomplishment tempered by disappointment that the journey had run out of path? This week, let's write haiku/senryu about our arrivals – physical or metaphorical. I look forward to meeting you at the finish line and reading your accomplishments.
The deadline is midnight Pacific Standard Time, Saturday November 26, 2022.
Please use the Haiku Dialogue submission form below to enter one or two original unpublished haiku inspired by the week's theme, and then press Submit to send your entry. (The Submit button will not be available until the Name, Email, and Place of Residence fields are filled in.) With your poem, please include any special formatting requirements & your name & residence as you would like it to appear in the column. A few haiku will be selected for commentary each week. Please note that by submitting, you agree that your work may appear in the column – neither acknowledgment nor acceptance emails will be sent. All communication about the poems that are posted in the column will be added as blog comments.
below is Peter's commentary for purpose: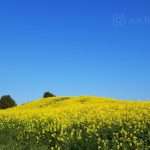 Your poems continue to inspire me with their breadth of experience and depth of feeling and spirit. As my memories move along the way toward Santiago de Compostela in Spain, this week's purposeful poems also took me to a labour room, a deserted beach, a New England diner, a school play, Croagh Patrick, a highway during rush hour, fabulous forests, and a sombre concert hall, among many other locales. I encountered a black hole, alpine reflecting pools, witches, hawks, wildflowers, a lama, the smell of sizzling bacon, and a solo traveller loving themselves under a million stars. I can't wait to share all the fantastic poems selected for this week's column. Let's dive in, starting with five poems highlighted for commentary.
Have a wonderful week, everyone!
Peter
the octopus
puts its arm up to meet
the young girl's finger

John S Green
Bellingham, Washington
To live is to be curious. To be curious is to be open. To be open is to trust. In John Green's beautiful poem, this healthy disposition toward life is on display in a heartfelt moment of discovery shared between a child and an octopus. It's easy for us to think of children as innately curious and just as easy to forget that animals and sea creatures are as well. A quick scroll through social media confirms how inquisitive and playful dogs, cats, cows, dolphins, crows, elephants, monkeys, orcas, etc. can be. This haiku reminds me of Michelangelo's "The Creation of Adam" wherein God and the (supposed) apex of God's creation (made in God's image) reach out to touch each other from their respective places in the cosmic hierarchy. While that powerful icon has underscored western society's privileged, patriarchal, domineering stance toward nature (and the other), John's imagistic poem wonderfully illustrates something else. Might this emerging eco-conscious, interdependent, inclusive world view lead us into a new age of cooperation, empathy, and sustainability? I hope so. The planet's survival hangs in the balance.
here
for a lifetime—
dayfly

Helen Buckingham
Wells, UK
A dayfly, beginning life as an aquatic larva, now emerges from the water as a slight insect with diaphanous wings, and an equally delicate lifespan – a mere two days to check off all the items on its bucket list. Two sunrises, two sunsets, and that's that, unless, of course, a bird, bat or spider snuffs the dayfly out even earlier. Objectively, this simple five word poem succinctly states the sobering facts facing a dayfly's existence. Poetically, Helen Buckingham's perfectly placed five words hold much, much more. Taking its place in a long line of fine haiku preceding it, this poem subtly signifies the transience of life, a fact none of us can avoid. But it also challenges the reader to consider the nature of that temporality. Brief as a dayfly or enduring as a Bristlecone pine, each life, our own included, acquiesces to the simple truth of this poem: we're here for a lifetime, whatever circumferential length that might be. Our language suggests that, while simple, this truth is tough to accept, let alone celebrate. We say that a loved one's life was "cut short" or "taken too soon," and I understand the sentiment completely. This poem, however, invites me to welcome, difficult as it may be, that when life comes full circle, it is perfectly complete. Whether our circles are small or large, they are whole, and wholly worth embracing.
inside his death
I sweep the stoop
in small circles

Kath Abela Wilson
Pasadena, California
Speaking of circles, Kath Abela Wilson's poignant poem reminds us that there is nothing linear about the grieving process. Stepping inside the experience of death, the subject of this poem locates themself in a liminal place where nothing and everything find motion in the simple act of leaning on a broom and sweeping a stoop. Each circular sweep of straw against distressed wood recalls another memory of the subject and their dearly departed – perhaps chatting with neighbours, watching the antics of an alley cat or pigeons on a fire escape, of tender words spoken, difficult decisions pondered, partaking in the sacred silence shared between two clasped hands in the evening breeze, experiencing the years gently entwining their hearts. Perhaps a passerby might wonder what the subject of this poem is doing, lost in the endless sweeping of an old stoop. But those in the know – caring family, loving friends, empathetic readers of this poem – will continue to hold space for grief and its varied expressions for as long as needed.
polishing brass
my veneer
rubs off

Jonathan Epstein
USA
Mihaly Csikszentmihalyi's seminal book Flow, often cited in discussions about creativity, posits that people deeply engaged in an enjoyable activity may experience a positive state of consciousness he called "flow." Artists, musicians, mystics, writers – including haiku poets – may experience this satisfying, time-collapsing state of being after a period of complete absorption in their pursuits. Jonathan Epstein's senryu suggests that this meditative, transcendent state is accessible to all, not just to fine artists and hilltop hermits. Flow can happen even while engaging in simple, menial tasks such as polishing brass. The subject of this poem loses themself in the repetitive, "mindless" task of persistent polishing, resulting in a personal epiphany. Gazing into the reflective brass bell, genie lamp, or singing bowl, they gradually see not only their physical visage staring back at them but something much more profound – a glimpse of their inner self momentarily shining unencumbered through the patina of daily existence.
Cold mountain air
and a night on tatami:
worth the hike

Jenny Shepherd
London, UK
In a parallel universe, my second self lives in a humble shack atop a remote mountain. It's an austere yet purposeful life. I spend my days foraging for a few mountain berries, gathering sticks to stoke a small fire for the lonely evenings, perhaps a brief encounter with a whistling woodcutter deep in the woods, or an excursion to the valley to kick a ball with the village children, or fill my begging bowl with enough rice to cook a meal of gruel. On my tiny porch, I hold court with grackles, bluebirds and cuckoos, and at night sit on my tatami in the cold light of the moon, patiently waiting for a few lines of verse to alight on the page or for sleep to tap me on the shoulder. Deep in the night, perhaps that life dreams of this life in Vancouver where I now sit comfortably in the warmth of a recliner pondering Jenny Shepherd's travel haiku. A visceral, embodied delight, Jenny's poem pays homage to the long line of reclusive haiku poets – Basho, Ryokan, Santoka, to name a few – who actually lived, toiled, and wrote haiku in conditions I can only imagine. Some of their ramshackle huts are still standing, welcoming pilgrims, such as the subject of Jenny's poem, to trek high into the cold mountain air, rest for a while on a tatami next to a futile fire, and connect with the simple things that fuel inspiration for more than a few fine poems, Jenny's included.
and here are the rest of the selections:
sunlit cabin—
the growing yes
of morning

Pippa Phillips
Kansas City, MO

morning tea I sip a cuckoo's trill

Neena Singh
India

singing to the only bird who listens to me

Roberta Beach Jacobson
Indianola, Iowa, USA

parsing data
dunlins swirl
into a pattern

Jerome Berglund
Minneapolis, Minnesota, United States

clouds…
finding their shape
losing their shape

Deborah Karl-Brandt
Bonn, Germany

ashes
into their urn
a skylark's song

Charles Harper
Yokohama

scattering dad's ashes…
at the end of the journey
the Milky May

Florin C. Ciobica
Romania

blossom season
coming back with the urn
empty

Bryan Rickert
Belleville, Illinois USA

park bench
people with fixed destinations
passing

Alan Peat
Biddulph, United Kingdom

New England cafe
patrons fight for a seat
next to the witch

Sharon Ferrante
Daytona Beach, FL USA

breaking
through a brain fog
smell of bacon

Jeff Leong
Kuala Lumpur, Malaysia

tossing the big issues—
i cook the rice
mop the floor

Vijay Prasad
Patna, India

washday blues
granny's bloomers
full of wind

Carol Jones
Wales

through the hollow of twirling leaves a giggle

martin gottlieb cohen
Egg Harbor, NJ US

dead leaves
blowing down the track
and your point is?

John Hawkhead
United Kingdom

to be that hawk
riding the thermals—
my lost yesterdays

Penny Harter
Mays Landing, New Jersey

Yosemite
finding myself
in step with coyotes

Tracy Davidson
Warwickshire, UK

walking meditation—
the reflective stance
of a praying mantis

Mona Bedi
Delhi, India

a small temple
on the trail to Everest
lama's blessing

Bruce H Feingold
Berkeley, CA, USA

trek in tea garden
I bend to pluck
a red coffee berry

Padma Rajeswari
Mumbai, India

mountain peak vastness I realize I'm alive

Eleanor Dean
Massachusetts, United States

the travelers' pony
shakes its bells
pilgrim to Croagh Patrick

Ann Sullivan
Massachusetts USA

two mountains longing for the valley between them

Cynthia Anderson
Yucca Valley, California

still Alpine pool
reflecting mountains
and my nakedness

Amanda White
Morvah, Cornwall, UK

in my sleeping bag
under the Montana stars
masturbating

Marcia Burton
Salt Spring Island, Canada

field of stars
our hands
parting

Nicky Gutierrez
Akron, OH

winter stars without an anaesthetic

Keith Evetts
Thames Ditton UK

moon floating in space…
the Crescent Trail
all to myself

Laurie Greer
Washington DC

hunting for peace. . .
the pale moon
pulls me inward

marilyn ashbaugh
edwardsburg, michigan

stepping outside
after a dry holy hour
the evening air

Curt Linderman
Seattle, Washington

midnight suddenly a black wave

Pris Campbell
U.S.

going to know why

Daya Bhat
India

winter solstice:
darkness recedes
with each pen stroke

Elizabeth Shack
Illinois, USA

silent dawn
the squeak of the wheels
on the gurney

Sharon Martina
Warrenville, IL

needle
by needle
saguaro sunrise

Ann K. Schwader
Westminster, CO

summer sunrise
the cosmos expanding
inside outside
me

Gary Evans
Stanwood, Washington

morning glory
with each bend
closer to the light

Sarah E. Metzler
USA

a shaft of sunlight
on the vase of roses
music room

Tim Cremin
Massachusetts

glimmering moon—
last concert of
the pianist with cancer

Keiko Izawa
Japan

whilst waiting…
the bare branches
fill with song

C.X.Turner
United Kingdom

standing
in a field of sunflowers
cancer fundraiser

Margaret Mahony
Australia

near-death experience —
coming home
to vibrant evergreens

Seretta Martin
San Diego, CA, USA

woods-walking
letting go of the string
that tethers the self

Colette Kern
Southold NY, US

ochre the deep desire to be grounded

Teji Sethi
India

forest bathing
i learn to live
with wildflowers

Lakshmi Iyer
India

poppies –
nothing else to learn

papaveri –
niente altro da imparare

Maria Teresa Piras
Sardinia – Italy

stretching my arms
around a giant sequoia …
a heartbeat

Victor Ortiz
Bellingham, WA

we write haiku
to capture a moment
a fly in amber

Margie Gustafson
Lombard, IL USA

lost in the forest
found
by a great horned owl

Ruth Holzer
Herndon, Virginia

the afternoon sun
selects a hillscape …
this is enough

Annie Wilson
Shropshire, UK

reed bed
a hermit tells me
welcome

Moldovan Mircea
România

Spearfish Canyon
the river in me cheers
the river in you

Mike Stinson
Nebraska USA

humming along
with each note
bubbling stream

petro c. k.
Seattle Washington

river walk
light shines through
a dragonfly's wings

Bona M. Santos
Los Angeles, CA

smooth lake
the stillness moves
inside me

Kimberly Kuchar
Austin, Texas

merely a lake
flowing into a lake
Niagara Falls

Maxianne Berger
Outremont, Quebec

soul searching
that old man at the lake says:
let go your garbage

AJ. Anwar
Jakarta, Indonesia

sanctum trek
this quest for
the mobile signal

Ravi Kiran
India

afternoon traffic
tuned to the soundless rush
of november clouds

Jonathan Roman
Yonkers, New York

I'll get married
and raise sea lions
what a pain…

Barbara Gaiardoni
Verona, Italy

stuffy sun
groceries weigh more
with every step

Vandana Parashar
India

in the crowd
at a school play
working parents

Richard Straw
Cary, North Carolina

on every journey childhood bees

Roberta Beary
USA / Ireland

the hum of a bee
inside the lotus
inside me

Adele Evershed
Wilton, Connecticut

raindrop symphony on a tin roofed outhouse

Dan Campbell
Virginia

expecting rain the smiles of strangers

Adrian Bouter
The Netherlands

using hand speak
bartering for a
cashmere scarf

wanda amos
Old Bar, Australia

sirocco wind
at the Colosseum
my belly dance

Luisa Santoro
Rome, Italy

wind shift
as days go by
a tangerine scent

Luciana Moretto
Treviso Italy

heritage walk —
reading the road signs
in my mother's accent

Lori Kiefer
London UK

summer school
learning to live
on my own

Nancy Brady
Huron, Ohio

first cries
in the labour room
birthing his mother

Ruchita Madhok
Mumbai, India

deserted beach . . .
a child is searching for
a souvenir

Dejan Pavlinović
Croatia

sharing my childhood
with my granddaughter –
photos in black and white

Paul Callus
Malta

black hole
the fortune cookie
is empty

Valentina Ranaldi-Adams
Fairlawn Ohio USA

late into the night
I sit up and think
about nothing

Lev Hart
Calgary, Canada
Guest Editor P. H. Fischer (Peter) lives, works and plays in Vancouver, Canada, on the traditional, unceded territories of the Coast Salish peoples. He is the winner of the Vancouver category of the 2022 Haiku Invitational of the Vancouver Cherry Blossom Festival, and is grateful to see his poetry published in a growing list of haiku journals including The Heron's Nest, Modern Haiku, Frogpond, Presence, First Frost, Whiptail, Kingfisher, Prune Juice, Haiku Canada Review and others. His top passions (besides family) are walking and writing haiku. If he could, he'd leave on another 900 km ginko today!
Lori Zajkowski is the Post Manager for Haiku Dialogue. A novice haiku poet, she lives in New York City.
Managing Editor Katherine Munro lives in Whitehorse, Yukon Territory, and publishes under the name kjmunro. She is Membership Secretary for Haiku Canada, and her debut poetry collection is contractions (Red Moon Press, 2019). Find her at: kjmunro1560.wordpress.com.
The Haiku Foundation reminds you that participation in our offerings assumes respectful and appropriate behavior from all parties. Please see our Code of Conduct policy.
Please note that all poems & images appearing in Haiku Dialogue may not be used elsewhere without express permission – copyright is retained by the creators. Please see our Copyright Policies.